National
George W. Bush Unapologetic In Promoting "Decision Points" Memoir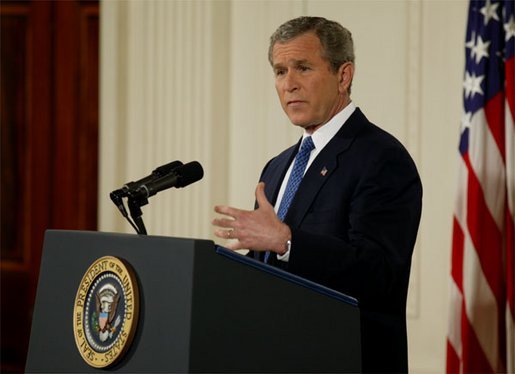 Former President George Bush went into hiding when his eight years in the oval office ended, but now he's back in the spotlight, appearing on numerous talk shows and defending some of his most controversial presidential decisions, all in the name of promoting his memoirs "
Decision Points
," which comes out Tuesday.
Monday night marked Bush's first major interview since he left office and he seemed eager to explain his stance on waterboarding and the Iraq war, two highly criticized points in his tenure, with interviewer Matt Lauer.
"Let's talk about waterboarding!" Bush said with an enthusiastic arm gesture when Lauer brought up the topic.
When asked why the practice, a form of torture that simulates drowning, was legal, Bush responded "Because the lawyer said it's legal."
"Using those techniques saved lives," Bush said. "My job was to protect America. And I did."

Bush noted that the lowest moment of his presidency stemmed from a comment made by rapper Kanye West on Hurricane Katrina, in which West claimed Bush "doesn't care about black people."
"You're not saying the worst moment of your presidency was watching the misery in Louisiana, you're saying it's because somebody insulted you because of it," Lauer asked.
"I also make it clear that the misery in Louisiana affected me deeply as well," Bush responded.
Bush maintained that he believed Iraq had weapons of mass destruction when the war began and showed no regrets in his making the decision to invade. He told Lauer he's never considered apologizing to the American public.
"I mean, apologizing would basically say the decision was a wrong decision. And I don't believe it was the wrong decision," Bush said.
Critics say the memoirs are just further proof of Bush's stern refusal to admit to his mistakes; Michiko Kakutani of the New York Times writes that Bush's "moods vacillate mainly among the defensive and the diligent — frat boy irreverence, religious certainty and almost willful obliviousness."
Bush will continue on the talk show circuit, appearing on The Oprah Winfrey Show and Jay Leno's "Tonight" Show, as well as doing radio interviews on the shows of conservative commentators Rush Limbaugh and Sean Hannity on the Fox News Channel.
Bush will also appear live on The Today Show with Matt Lauer Wednesday morning, discussing key issues that have shaped his personal and political life. Most likely, the conversation will include the two wars, his opinion on President Obama's performance thus far, and his decision to quit drinking, all of which were included in the book.
To reach reporter Laura Cueva, click here. Follow her on Twitter @leccueva.