Sports
Fred Fenster Denies Ties To Teague Egan's 1st Round Sports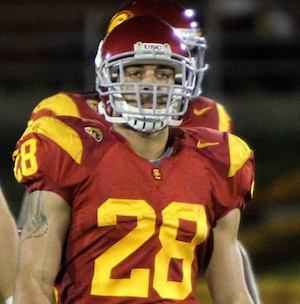 Attorney Fred Fenster denies having any involvement with the talent agency of USC undergraduate student Teague Egan, who has come under scrutiny for providing a golf cart ride to USC freshman running back Dillon Baxter.
Fenster, an attorney at Rutter, Hobbs and Davidoff and an adjunct professor of law at USC, had been listed on the website of 1st Round Sports as the company's "legal senior adviser."
Reached by phone Monday afternoon, Fenster said, "I don't know why I'm on their website. I know Teague formed a number of companies but I don't know anything about them."
As of publication of this article, Fenster's headshot and details could no longer be found on the 1st Round Sports website. Google searches offer some clues to the previous mention.
Fenster said he has been in deposition hearings since Thursday and had not yet spoken to Egan, though he plans to call him later this week. Fenster also could not recall the last time he had a conversation with Egan.
Noted as a longtime NFL agent by ESPN, Fenster's denial takes one angle out of a developing story about a college student doubling as a certified player agent. There's worry that Egan may have become too close with USC football players, putting his own status as an agent in jeopardy and threatening the collegiate eligibility of the players.
Reach executive producer Paresh Dave here. Follow him on Twitter: @peard33.