California
Jerry Brown, Barbara Boxer And Gavin Newsom Rally Day Before Election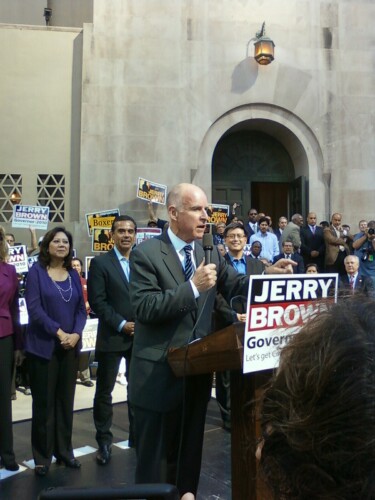 Democratic gubernatorial candidate Jerry Brown and the entire Democratic ticket rallied at the Los Angeles Central Library Monday, reminding voters that one democratic win wouldn't necessarily equal change in California, but that they all need to become elected in order to truly make a difference.
"We need everyone standing behind me," Brown said amid chants of "We will vote!" from the crowd. "I think we can do that."
Brown was joined by Sen. Barbara Boxer, Attorney General candidate Kamala Harris and Lieutenant Governor hopeful Gavin Newsom, as well as Los Angeles Mayor Antonio Villaraigosa, California State Controller John Chiang, Assemblymember Dave Jones, Secretary of State Debra Bowen and U.S. Secretary of Labor Hilda Solis in a rally that was optimistic and much less negative than others in the past.
"This campaign has been a tough fight," Boxer said. "But I have this to ask you: isn't our country worth fighting for?"
The crowd was on their feet and chanted everything from "Jerry!" to "Barbara!" to "We will win!" as speakers approached the microphone.
Though the Republican ticket took a few shots from the Democratic nominees, one much stronger message was delivered at the rally: Tuesday is Election Day, and we need everyone's vote.
"If you want to run the state like a business, which you shouldn't, but if you are," Brown said, "what's the first thing you do? You look at their resume. I've got the experience."
Newsom backed him up, saying if anyone can do the job, it's Brown.
"I don't know of another job were you have to go through the job interview that Jerry Brown has had to go through," Newsom said. "Tuesday, you get to make the hire."
He ended the rally to cheers from the crowd as he said, "Money can't buy you love, nor can it buy you the governor's mansion."
To reach reporter Laura Cueva, click here. Follow her on Twitter: @leccueva.
Sign up for Neon Tommy's weekly e-mail newsletter.