Books
Award-Winning Filmmaker Writes About Her Life In "Bluff Island Rescue Service"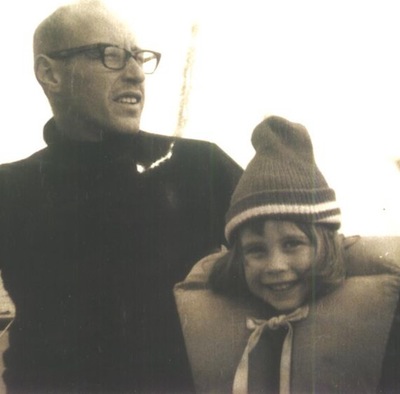 When it comes time to sit down and write about the one story one knows best, one's own life-- the task is substantially overwhelming.
It definitely must have been for Stephanie Hubbard. Her memoir "Bluff Island Rescue Service" is one of those painful stories that pulls the reader into the realm of Hubbard's anything but ordinary life and story of survival.
The book immediately captures reader interest through Jake, her narcissistic father. Jake Hubbard is a writer for "Newsweek" and a professor at Syracuse University.
He is an inimical alcoholic and physically abusive; he also can't seem to go a day without verbally attacking Hubbard's insecure mother in front of the children. In one scene he screams, "you're nothing but a useless, fat, stupid cow."
To make Hubbard's life even harder, her father leaves her mother to be with SMS, his mistress and former student at Syracuse -- SMS hates Stephanie.
Parts one and two of the book are an ode to Hubbard's childhood. She describes sharing her early years between upstate New York and Bluff Island. Though her parents poisoned her childhood with constant fighting, fortunately, they did not rob her of every memory she made—especially those adventures on the island.
Despite all of the dysfunction, young Hubbard gives the reader hope when she shows a strong interest in becoming a movie director.
Parts three and four capture her adult life, including her time studying at Queens University in Ontario. For some years, Hubbard loses sight of her dream and mirrors her father's habits: becoming an alcoholic as a young adult, having multiple sex partners -- one of which raped her, and becoming an adulterer herself.
It is not until she is being arrested on a gurney that she begins to map out a path of redemption.
Hubbard writes profoundly about her life, describing her family and the challenges she is faced with along the way.
What makes this book appealing is her ability to write straightforward material, it is not fluffy with sappy poetic imagery. It is concise and clear, but she describes the scenes of Bluff Island and Syracuse beautifully.
Each chapter is written with passion and conviction, having a certain effect on the reader; one is able to feel the exact emotions Hubbard felt as she was going through every trial and tribulation.
Essentially, the book is a script for a movie. Hubbard is known for her award winning documentaries that have been aired on PBS, the History Channel, and the Discovery Channel to name a few.
Overall, the 337 page book is a very easy read and a riveting memoir. The book is very engaging and is a page-turner. Hubbard shares such a telling story of dysfunction that not many people would so freely admit to. Neon Tommy spoke exclusively with Ms. Hubbard.
You are an award winning documentary filmmaker, what made you want to write a memoir?
Well, my role in filmmaking has been editor and writer and now, increasingly, producer and director, but always in the service of a film or an institution. It's a collaborative world where I am very comfortable supporting the amazing visions of others, but I also have my own artistic life. Since I came to Los Angeles, I have always been at work on my own projects. At first I was writing screenplays myself, writing and directing my own short films - and then finally, when I didn't feel that I was getting where I wanted to be, I decided to just write prose.
Prose quickly became very exciting to me because it's a form that when it's done, it can be appreciated exactly as it is. When you write a book - you have complete and sole control over it. There may be collaboration (and I did have people I consulted with over the writing of this book) but at the end of the day, I am captain of this boat/book and I have final say over every last punctuation mark, and I don't have to wait for funding to put it into it's final form. When you write a script it's like you've made plans to build a building. All that exists are the plans, not the building. I wanted to make something that I could get to being a building on my own.
And why a memoir? Well I think you will agree it is a hell of a story: I hadn't told it before, and I don't think anything like it had been told before, and yet it had a true universal quality to it: How to we as kids deal with our parents? So as an author and an artist I could see there was great material there, that was both unique and could connect to people, and so that gave me the confidence to go ahead.
You have a very powerful story, what is the main message that you want the reader to take away from your story?
That forgiveness is not only possible, but necessary. That no matter what a person has been through or been told, it is possible for them to connect and have a family, and be successful in the ways that are important. I think there are a lot of people who see themselves as wounded, and I guess I want them to know that they don't have to be limited or defined by that.
If you had the chance to re-write a chapter in your life/story, would you? If so, what part?
Oh (laughs) If you are just talking about life, there are people I wish I had appreciated more - had been more available for earlier in my life. I wish I had more tools earlier on - and wish I knew how to do things before I did - but those are more regrets, and what ifs, and of course I love my life today. As far as rewriting a chapter in the book- I really took the time to write and rewrite every chapter like it was a gem - and the reaction that the book is getting from discerning readers would imply I did a good job. So I was intensely thorough in making sure each chapter fit with the rest and had a role to play on many levels.
Your true passion is in filmmaking, ever thought of making "Bluff Island Rescue Service" into a film?
Well, as a filmmaker, I think the main challenge with making it is the scope of time - and frankly thinking about casting a child to be around such brutality does not feel comfortable to me. (The consequcnce of working in film is you start to see the gears turn perhaps a little too much...) Certainly I can see scene after scene in my mind's eye as to how it should look - and I have a certain actress in mind who reminds me of my younger self (Zoe Deschanel) so of course the idea of it has crept into my consciousness - but frankly it is so freeing to have created a work of art that requires nothing of the film world, so I am just enjoying that for the moment, but if you know Zoe - please recommend the book to her!!!!
What projects are you currently working on that we should look out for?
Well thank you for asking! I am finishing my second book - it's a novel about a couple who've worked hard to be artists their whole lives and are having second thoughts about it. I am directing a documentary about a theme park that was never built, and I am working with a couple of great non-profits at the moment, really helping them get their message out - it's really meaningful work that I love. Of course, I also teach my documentary workshops, at the thedocumentaryinsider.
For more info on the book go to www.bluffislandrescueservice.com
Reach reporter GinaLisa Tamayo here.
Sign up for our weekly email newsletter.