Los Angeles and Region
What Can Local Government Learn From The Bell Scandal?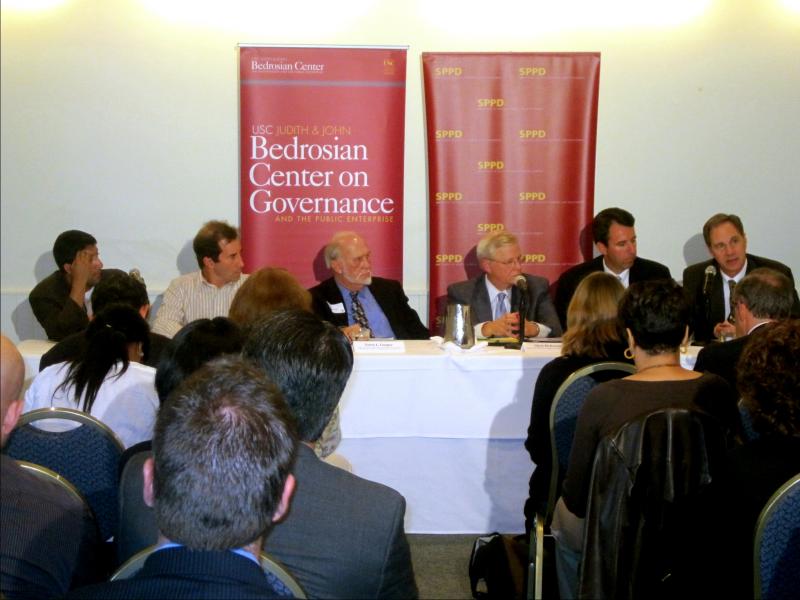 Several political experts met at USC Monday to discuss changes that need to occur within California city governments in light of the
Bell corruption scandal
.
Speakers at Monday's panel included Ruben Vives and Jeff Gottlieb, the L.A. Times reporters who broke the Bell story; Chris McKenzie, the executive director of the League of California Cities; Terry Cooper, USC policy professor; and Assemblyman Hector De La Torre. The event, titled "Lessons of Bell: Governance Reform, Accountability, and Transparency," was sponsored by the
Southern California chapter of the American Society of Public Administration, the Bedrossian Center for Governance, and the Public Enterprise at the USC School of Policy. About fifty people attended.
De La Torre began by outlining the problem: the population of Bell is only 36,000, and7 percent of residents live in poverty. The city is mostly Hispanic, and 65 percent of residents do not have high school diplomas. Despite these statistics, Bell City has higher property taxes than Beverly Hills, and its council members were paying themselves hundreds of thousands of dollars in salaries each year.
Panelists stressed the importance of checks and balances in situations like the Bell scandal. According to De La Torre, the problems are with accountability and structure.
"The system is one that allows bad people to take advantage of it," De La Torre said.
McKenzie emphasized the need for transparency in government, saying that we "need to go back to core values when coming up with checks and balances."
Vives and Gottlieb stressed that if they had been at Bell City Council meetings earlier, they would have caught the problems sooner and perhaps prevented some of the events from occurring.
"It may have been luck that lead Jeff and I to discover the story," Vives said.
The panel was held at a crucial time, as Governor Arnold Schwarzenegger recently vetoed two bills that were passed in response to the Bell scandal. The bills were created to limit pension spiking, as was seen in the case of Bell. According to De La Torre, Schwarzenegger did not feel either of the bills were effective enough for the problem at hand, and felt that they were passed too soon after the scandal.
Reach reporter Melissa Dempsey here.
Sign up for our weekly e-mail newsletter.