Film and TV
"Tamara Drewe" - One Fling Leads To Another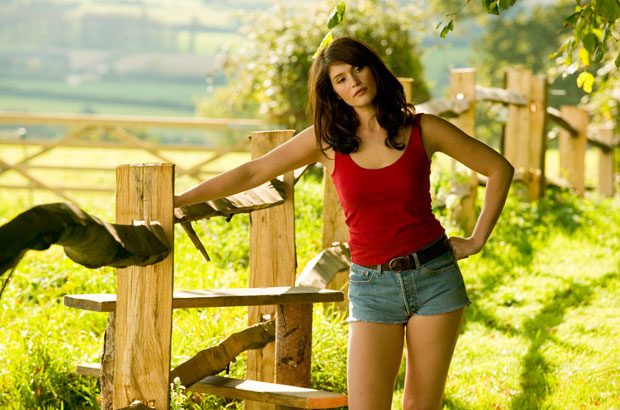 When I hear the phrase "graphic novel," sexy is not the first thing that comes to my mind.
Gemma Arterton, however, is known for being quite the leading lady with roles in "Quantum of Solace" and "Prince of Persia." The actress admitted she didn't know what to think when she first heard her latest role would be based on a comic strip, but veteran UK director Stephen Frears saw to it that Arterton brought Tamara to life with a sparkling performance in the film.
In a quaint town in the English countryside, Tamara Drewe (Gemma Arterton) makes a splash when she returns to her hometown with a whole new look and sense of confidence. A former teenage fling, Andy Cobb (Luke Evans) helps Tamara fix up her family's country estate that had once been owned by his own family.
Within a week of being in town, Tamara has taken up with one of England's most famous rock stars, Ben Seargent (Dominic Cooper). Though she is the envy of a pair of meddling teenage girls, Tamara is not content with her rock star fiancé and instead explores a childhood crush on the middle-aged but successful novelist, Nicholas Hardiment (Roger Allam), who runs a writer's retreat on his neighboring farm.
The visiting writers are provided with endless material once Tamara steps on the scene. Through a series of lustful encounters, Tamara leaves a path of destruction and excitement behind her in a sleepy town that hasn't ever seen anywhere this much action.
This modern take on Posy Simmonds' graphic novel, "Tamara Drewe," is highly entertaining thanks to the unpredictable storyline and the great cast.
Gemma Atherton does a fabulous job capturing Tamara's exploitation of her new magnetism over men. The tables are turned as Tamara is now the one relishing in calling the shots and learning all she is capable of with her new look.
One of the best parts of the film is the two young schoolgirls who provide an ongoing comedic narration of Tamara's love life from a very realistic adolescent viewpoint. These meddling girls do all they can to keep the rock star (think Russell Brand) in their town, but their mischief ends up causing some real problems for everyone involved.
This is not your typical retreat to the English countryside with tea and crumpets, but rather what feels like a romance novel come to life.
You'll be guessing who Tamara ends up with until the last minute, and then you'll want to book your own retreat. Be sure to catch Tamara Drewe in theaters beginning October 8th.
VIDEO:
Reach reporter Christina Rath here.
Follow Christina Rath on Twitter @ChristinaRath.