Style
Sue Wong Channels Old Hollywood Glamour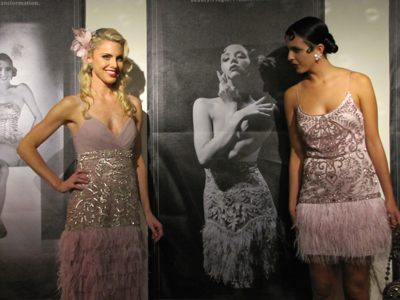 A tribute to the goddesses of the pre-code silver screen, Sue Wong's Spring 2011 preview on Friday was a night of glamour with a devil-may-care attitude.
One of the only designers who still shows in Los Angeles, Sue Wong's atelier in the historic Wilshire district was the meeting ground for all of the city's true fashion lovers.
Although it was technically themed as heroes, heroines, and villains, and one man came dressed in a full army jumpsuit ( as Tom Cruise in "Top Gun"), most guests simply wore one of Wong's gorgeous beaded and feathered gowns.
Sue Wong herself looked magnificent in a scalloped and feathered black skirt and shawl with her black hair slicked back and a grandiose grey necklace that looked like crystals growing out of a cave.
Models in her latest designs dazzled the guests as they posed on pedestals and walked around the atelier taking pictures and looking spectacular. The spring collection carried a theme of old Hollywood glamour, as most of Wong's collections do.
"The collection is inspired by the pre-code goddesses of the silver screen. These were the first modern women and they were raw, undaunted, somewhat challenged perhaps but they were undeterred and unchained and uncut. They were really strong and sexually frank. Think Tallulah Bankhead and Marlene Dietrich and always with an incredible sense of glamour," said Wong.
Wong has a huge celebrity following and has dressed many beautiful movie stars including Anne Hathaway, Jessica Biel, Miley Cyrus, Christina Ricci, Taylor Swift, and Tyra Banks. At least one of her gowns always flows gracefully down the red carpet at an award show or special event.
But Sue Wong said that, "anybody who is really gorgeous and has a really glamourous flare would really feel at ease in my clothes."
Her intricately embroidered and beaded gowns, cocktail dresses, and handbags stayed true to the chic elegance of the brave and sensual starlets that they were modeled after.
The presentation and party was one of decadent glamour. Cakes and chocolate covered strawberries were served and the drinks were plentiful. Air-kissing ensued and Wong even danced around to the wonderful jazz music that filled the air.
The atmosphere was lively and exciting; everyone looked simply thrilled to be there.
Reach reporter Tess Goodwin here.