USC Sports
Sarcastic Barkley Shows He Has Long Way To Go To Be An Elite QB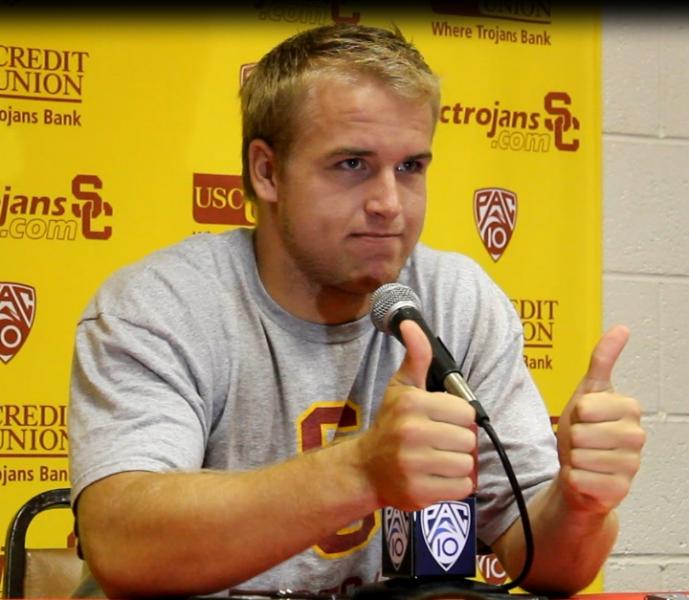 Does Matt Barkley even care about winning?
It didn't look like it Saturday night.
With Washington lined up to kick a game-winning 32-yard field goal with three seconds remaining, USC head coach Lane Kiffin called a pair of timeouts.
During one of the timeouts, ESPN cut to a shot of Barkley and the sophomore quarterback had a smile on his face.
When USC lost to Oregon State in 2008, then-quarterback Mark Sanchez wasn't smirking or grinning. He was dejected, upset, downtrodden. His successor, on the other hand, evidently finds losing in the Los Angeles Coliseum to be entertaining.
Could the difference be the fact that USC can't go to a bowl game this year because of NCAA sanctions?
Sanchez seemed to know in 2008 that the loss in Corvallis could cost him a shot at the national championship, which it eventually did. Barkley and everyone else knew coming into this season that USC didn't even have that possibility.
Does that explain Barkley's lackadaisical demeanor?
Maybe. But the postseason ban didn't stop senior linebacker Michael Morgan from being near tears after the game. His post-game responses, fragmented by small gasps for air, came out in a low, broken voice as he held back his emotions. As soon as his post-game press conference was over, Morgan bolted from the room before teammate Allen Bradford even made it out of his seat.
But Barkley? His first words were "Didn't throw any picks. That was a good thing."
His weren't remarks of disappointment. He didn't appear upset. Instead, he produced a small grin and two thumbs up that didn't even have enough sarcasm to indicate that he actually cared.
Earlier, Kiffin had addressed the media.
In his typical, flat drone Kiffin said Barkley "did some really good things; he managed the game really well."
In football, those words are the essence of mediocrity, which is exactly what Barkley showed in USC's loss.
Barkley finished 14 of 20 for 186 yards with no touchdowns. He wasn't Jake Locker. He wasn't even Washington backup quarterback Keith Price, who threw one more touchdown than Barkley despite playing just two snaps.
In what was supposed to be a battle between two of the top quarterbacks in the Pac-10, Barkley was overshadowed and outclassed by the Locker. The senior on the opposite sideline showed fire on the sideline and willed his team to victory. He had over 400 yards and converted crucial third and fourth downs, unlike Barkley.
In the press conference, Barkley's head did begin to droop as he discussed what could have been on those two critical third down attempts deep in Washington territory. Senior receiver David Ausberry had been open in the end zone on one drive and tight end Jordan Cameron had found himself free over the middle on USC's final offensive series.
"When you have them on the ropes and you have a chance to throw a touchdown pass, you have to throw a touchdown," Kiffin said.
Both times Barkley overthrew his target.
Instead of putting the game out of reach or giving themselves the opportunity to run more time off the clock, the Trojans had to settle for field goal attempts on both of those possessions.
Joe Houston made a chip shot on the first series, but his 40-yard attempt clanked off the right upright and fell to the turf on the second, giving Washington senior Locker two and a half minutes to lead his team to victory.
"If you're going to be a championship team, you have to finish teams off when you have the ball," Kiffin said. "When you have the ball and have the chance to finish them, you can't go and kick field goals. Instead of getting 14 points, with a wide open receiver, we get three [points] in the two possessions combined."
After having thrown a pair of interception in each of his last two games, Barkley didn't have the swagger he has exuded so often in the past.
"Sometimes I was too focused on not throwing interceptions on some of those clutch drives and we didn't convert," Barkley said.
Unlike his counterpart, Locker, who bounced back from an abysmal game against Nebraska, Barkley was reluctant to lose instead of going after the victory.
"Rather than trying to get a ball to Jordan or David Ausberry, I was more focused on not turning the ball over," Barkley said. "Which was good because we had a chance at the field goals but there has to be a time when you get the ball and have to drive it in."
The juxtaposition between the opposing quarterbacks was further evident in the final five minutes of the game. Barkley simply couldn't do what Locker did.
"As he gets older, the hope is that he makes those [plays]," Kiffin said. "[Locker] made those plays today again and again to bail them out of some tough situations. Matt will make those down the road as he continues to mature."
Maybe it's the difference in maturity between a senior and a sophomore. Maybe down the road Barkley will show he cares and won't be smiling as he gets outplayed and his team gets knocked off by an opponent with inferior talent.
But for now, Barkley is no Jake Locker. And he won't be until he shows he cares more about winning than anything else.
To reach reporter Shotgun Spratling, click here, or follow him on Twitter @BlueWorkhorse.
Sign up for Neon Tommy's weekly e-mail newsletter.