Science
Effects Of Robots In War: Trauma And 'War Porn'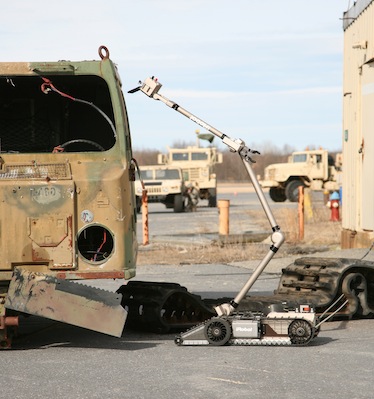 Peter W. Singer is the Senior Fellow and Director of the 21st Century Defense Initiative at the Brookings Institution and the youngest senior fellow in the center's 94-year history.
Regarded as one of the leading experts on 21st century warfare, his third book, "Wired for War: The Robotics Revolution and Conflict in the 21st Century," was published in 2009 and made The New York Times non-fiction best-seller list in its first week. It investigates the rise of robotic warfare and its implications for society. He recently discussed the book at the University of Southern California as part the school's "The College Commons" lecture series.
Julia Gabrick: What are some basic facts about these robots?
Peter Singer: There are over 12,000 robots, called PackBots, in use by the military now. It's important to note that right now they are defined by what they are not. They are merely unmanned devices. We still don't know what they'll become, like how the first cars were considered horseless carriages.
JG: Why are these robots important?
PS: They are a revolutionary technology representing the mechanization of society and what happens because of that change.
JG: Any other reasons?
PS: Warfare has become 'off the shelf,' do it yourself, and is not technologically limited to the U.S. The hardware for the robots comes from China and programmers in India write the software for them. People can build these devices on their own if they want. There's something called a 'flattening effect,' which means there's no dominance of a particular nation with robotics. This also reinforces the power of the individual instead of the state.
JG: How far do you think technology will take the robots?
PS: According to Moore's law, every 18 months our technological capabilities double. If this continues, within 25 years we'll have literally one billion times greater technological abilities than now. We are with robots right now where we were in 1909 with automobiles. And we also need to think about what cars created. Before them, there were no suburbs.
JG: How have they changed war on a political level?
PS: We need a system of law for accountability regarding the robots. Some officials at Human Rights Watch say we should use the Geneva Conventions, but how can that apply to robots? We are only equipped with 20th century laws for 21st century technology. Also, we need to figure out who gets to use these robots. Only the military, or also border guards and police, too? Then the issues of privacy and probable cause arise.
JG: How have they changed war on a human level?
PS: Robots record what they see, and people upload war videos on YouTube and even set them to music. This phenomenon has been called "war porn." Now we're watching more and experiencing less. But for 5,000 years our experience of "going to war" has meant physically going to a place so dangerous you may not come back. This is completely changed now. With predator pilots, there are fundamentally remote warriors experiencing combat stresses.
Also, asymmetrical warfare is developing between enemies in the back and forth between robots and insurgents. At least there was some camaraderie and duality when human enemies fought directly, since both were at risk. Separating the killer from killing raises the questions like, 'What's an act of war and what's an act of murder?'
JG: Are lawmakers thinking about these issues?
PS: I've met with members of Congress, but they're very uninformed. It's hard for them to keep up with technology and they have not given this much consideration at all so far.
JG: You said soldiers operating these robots from the U.S. are experiencing high trauma levels, which is unexpected. Why is this?
PS: One factor is dislocation. When you're insulated with your buddies from trauma you tend to experience less trauma than when you're alone. However, the soldiers operating these machines experience and see more. They follow their target up close, sometimes for an entire day, and then they kill all alone.
Another reason is the grinding nature of work. There are no holidays for war, so they work 365 days a year.
Plus, there's a disconnect between their work and home. They can be killing targets one minute, and 20 minutes later be at their kid's soccer game. It's difficult because they can't share anything with their families. There is no decompression period between their work life and their home life.
To reach contributor Julia Gabrick, click here.