Style
Pavonine Hosts Posh Poolside Soiree Debuting Spring 2011 Collection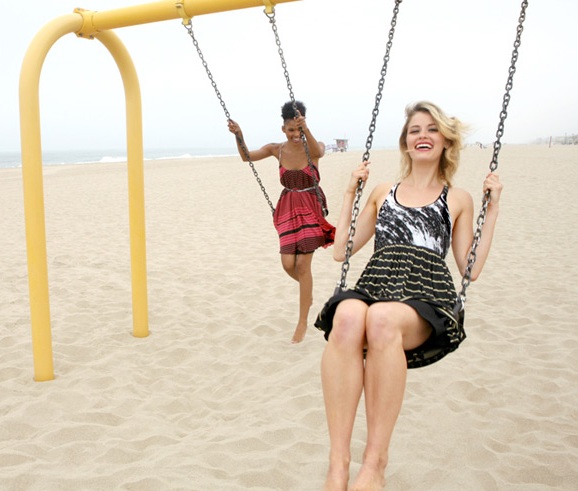 Los Angeles based fashion line Pavonine debuted its Spring 2011 collection Wednesday evening at the posh Mondrian hotel on Sunset Boulevard.
Poolside at Skybar, the lights of L.A. provided the backdrop as eleven models perched upon pedestals showing off the newest designs to partygoers.
The intimate affair had a more relaxed vibe than your typical high fashion runway show giving photographers opportunities to leisurely catch the models in the right light between sips of their martinis.
The models energetically danced along to the music and then frolicked to join friends at the party as soon as their work was done.
Pavonine, launched in 2009 by sisters Jenny and Brie Maletz and friend Jessica Solomon, is designed and produced in L.A. The brand is named for the Pavonine Quetzal, which is the only bird that will die if caged. The unique name defines the spirit and drive behind the brand.
None of the pieces are over the top, but all give off a carefree, comfortable, young, and stylish vibe.
Among the pieces featured were practical and stylish reversible cotton dresses and tops which could easily go from day to night, bright rompers, and wide leg jumpsuits perfect for coastal living.
Bright colors and curious combinations, like patterns with stripes, were pulled off with ease. One memorable look was a silky red top that was paired with a short and flowy turquoise patterned skirt.
Pavonine is currently sold in boutiques in the Southern California area as well as throughout the country and internationally. For a complete listing of retailers or to see more looks visit the website.
Follow Christina Rath on Twitter.
Join Neon Tommy's mailing list.