International
Palestinian Official Makes Counter-Offer To Israel On Peace Deal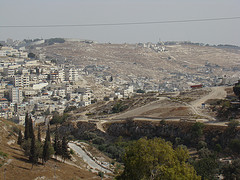 Adding a further twist to the already contentious direct talks between Israel and the Palestinian territories, a senior aide to Palestinian Authority President Mahmoud Abbas offered to recognize Israel as a Jewish state in exchange for recognizing the 1967 borders.
The offer, made by Yasser Abed Rabbo, would put the West Bank, the Gaza Strip, and East Jerusalem in the future state of Palestine. Israeli settlements are being constructed both in East Jerusalem and the West Bank.
Israeli Prime Minister Benjamin Netanyahu proposed on Tuesday that the settlement construction be frozen if the Palestinians recognized Israel as a Jewish state. Twenty percent of the population of Israel is Arab-Israeli.
Abbas rejected Netanyahu's offer, saying that the settlement freeze was a precondition to peace talks. A moratorium on settlement construction that had been in place expired on September 26, grinding the direct peace talks that the Obama administration had initiated to a halt.
Both sides have been making public remarks in the wake of the direct talks stumbling directed towards each other, making the tension between the two sides and their differences of opinion clear.
The 1967 borders were originally drafted at the conclusion of the Six Day War -- outlined in United Nations Security Council Resolution 242 -- and harkens back to the idea of trading land for peace.
Reach Executive Producer Mary Slosson here. Follow her on Twitter here.