National
Obama's Midterm Strategy Focuses On Energizing California's Loyal Base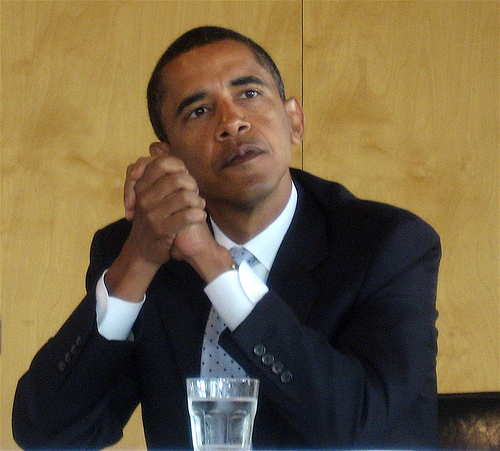 Democratic candidates across five Western states are hoping visits by President Obama will galvanize turnout by younger voters and voters of color, inspire the troops and rekindle the enthusiasm of 2008 that carried them to victory. Obama's Friday rally at the University of Southern California aims to do just that.
And California appears likely to be the most crucial campaign stop on the president's whirlwind tour of the country before the midterm elections. Obama will try to close the deal for incumbent Democratic Sen. Barbara Boxer and gubernatorial candidate Jerry Brown. The president could encounter the warmest welcome of the campaign season, arriving here on the heels of less-friendly forays into Florida and Ohio.
His rally in the Golden State--one of his strongest bases of support--comes just 12 days shy of Nov. 2, when Democrats risk losing control of Congress. Democrats, Republicans, Tea Partiers all view this midterm election as a national referendum on the Obama administration.
Mark DiCamillo, director of the Field Poll, said Obama's overall popularity in California puts his campaigning efforts in a "stronger position here than elsewhere" to make a case to the American people that Democrats deserve another two years of control in Washington.
"His job ratings here in California are higher than they are in other parts of the country, and therefore he's probably not as much a liability--or he's a greater benefit--to Democratic candidates running here than he would be in other states," DiCamillo said. "The use of Obama is to both shore up Boxer's support among registered Democrats and also to reach out to non-partisans who may be undecided."
As California prepares for the president's visit, a closer look at the states that Obama has visited and avoided reveals a strategic push to hit states hard where his popularity is waning and to rally his loyal base in states where support for the Democratic agenda remains strong.
In his trip to the West, Obama is also attempting to boost the fortunes of Oregon gubernatorial candidate John Kitzhaber, Washington's incumbent Democrat Sen. Patty Murray, Senate Majority Leader Harry Reid of Nevada and Minnesota gubernatorial candidate Mark Dayton.
His ratings down nationwide since 2008, Obama has lost the Midas touch he had when campaigning in certain Democratic states. Instead, his efforts reflect a strategic road map, crisscrossing the country and targeting as many states as possible where key races are far from decided.
According to a New York Times analysis, 112 seats remain in play in the House of Representatives, with 48 leaning Democratic, 27 leaning Republican and 37 tossups including districts in Ohio, Illinois, Pennsylvania and Maryland. Obama has made stops in all of these states.
The Times' analysis of senatorial races shows 19 seats in play, with three leaning Democratic, eight leaning Republican and eight tossups including Illinois and Pennsylvania where Obama has been, and Nevada and Washington, which are part of Obama's western swing.
In gubernatorial races, 24 seats remain in play, three leaning Democratic, eight leaning Republican and 13 tossup states including Massachusetts, Maryland, Florida, Ohio and Illinois, where Obama has been, and Oregon and California where Obama is heading.
Democratic strategist Bill Carrick, who is advising State Treasurer Bill Lockyer, said California has consistently been one of Obama's best states.
"In a lot of other parts of the country his numbers are upside down and he's pretty negative," Carrick said. "But here I think he's pretty safe for Democrats and there's not really a downside to it."
Allan Hoffenblum, publisher of the California Target Book, a non-partisan publication that analyzes legislative races, and a former GOP political consultant, said the Obama administration is trying to "significantly increase the voter turnout among their constituencies where survey research now is showing that they're not as motivated to go to the polls as their opponent is."
At the same time, Shawn Steel, the Republican National Committeeman from California, pointed to Democrats who are distancing themselves from the president.
"Many Democrats that are in very hotly contested races are running away from Obama, denouncing his major policy goals. We have several members who are incumbents who are saying they would not vote for Pelosi to be speaker of the House and that they would oppose Obama's major policies."
Alabama Democrat Rep. Bobby Bright separated himself from Democratic House Speaker Nancy Pelosi when he said she "might get sick and die," uprooting her chances at another tenure.
Indiana Democrat Joe Donnelly demonstrates his opposition to Pelosi's views on energy policy and Obama's views on immigration in two of his campaign ads.
West Virginia Senate candidate and current state governor Joe Manchin's new "Dead Aim" ad vows he'll be an "independent voice in the Senate" all while carrying a loaded shotgun, criticizing the Obama administration's policies and then shooting Congress's cap-and-trade bill.
In North Carolina, Democratic Rep. Mike McIntyre, who is trying to win an eighth term, has said, "I don't work for Nancy Pelosi."
"There's been a kind of sobering up among Democrats," Steel added. "They realize they're in trouble."
Bruce Cain, a professor of political science at UC Berkeley and the executive director of the UC Washington Center, said Obama's strategy to be helpful "means going where he's been asked to go and staying away from places that he hasn't been asked to go."
"In some places Obama's presence would only worsen the situation because people would be polarized by his visit or are so opposed to him that it would give them more reason to vote," he said, citing states like Indiana and areas of Ohio. "He can go to Philadelphia but to go out into the western part of the state might not be helpful. Just like when he goes to California it's useful to go to L.A. and San Francisco but not the Central Valley."
California's been a popular destination for high-profile politicians in recent weeks. Former President Bill Clinton has been campaigning for Jerry Brown around the state while Sen. John McCain spent Oct. 17 in San Diego campaigning for GOP senate candidate Carly Fiorina. Former Vice Presidential candidate Sarah Palin visited Anaheim on Oct. 17 to campaign for Meg Whitman, who did not attend the event.
Californians have supported Obama in the past. In 2008, 61.1 percent of California voters chose Obama over Republican opponent John McCain.
Obama's approval ratings in the state have diminished since he first took office but remain stronger than many other areas in the country. According to a September Field poll, 53 percent of California voters approve of Obama's job performance—down significantly from the 65-70 percent of voters who approved of his performance just after he took office.
Obama's visit to stump for Boxer and Brown at USC on Friday is a strategic "twofer" because of the campus' location in South L.A., Steel said.
"He's in a high-minority area where his natural strengths are and he's in a student community," he said.
DiCamillo also noted the importance for the Democrats of mobilizing these two voter groups, who provided much of Obama's 2008 support.

"In California, a lot of the younger voters are ethnic voters. The younger the age group, the higher proportion the voters are that are of ethnic backgrounds," he said.
Berkeley's Cain said part of Obama's success in California could be attributed to its demographic makeup.
"The state is more multiracial and the biggest drop off for Obama has been white older voters, so the more multiracial the state, the more democratic the state," he said. "The more new economy, the new green economy, the more likely they are to be pleased with Obama because a lot of the stimulus is aimed in that direction."
But historically, youth voter turnout drops significantly in midterm elections, DiCamillo said, noting the "occasional nature of the voting habits of younger voters" compared with the regularity of older voters.
Cain said part of Obama's strategy should be helping college students realize that a Republican takeover "could undermine what was done" in healthcare reform that stands to benefit students.
Though the main purpose of Obama's campaigning is to shore up support for Democrats in November's elections, the president must also be looking ahead to his reelection bid in 2012, particularly when it comes to first-time voters, experts said.
Democratic strategist Carrick said Obama could be especially interested in motivating yonger voters to get in the habit of voting, becoming "perpetual voters" and coming back to vote for him in 2012.
But his anxieties about a Democratic Congress are more pressing than those of his reelection.
Maintaining the Democratic majority in both houses, Carrick said, "would make it a lot easier for him to deal with his legislative agenda in the next couple of years."
His re-election chances are dimmed if Democrats lose states he carried two years ago.
"It's a half-hearted attempt to try to resurrect the enthusiasm he had two years ago. It's not successful and it won't be successful," stressed the RNC's Steel. "He knows he's going to get his head handed to him on Nov. 2. He knows it, the world knows it, the public knows it…He's betting demographically that he's going to get the same enthusiasm and the same numbers that he got in 2008. He's lost the idealists and independents. His folks ain't turning out this time."
But in an ideal world, Obama wouldn't be making visits to former Democratic safe havens like California and Nevada.
"He's really being forced by circumstances to spend a lot of time and effort in areas that previously were thought to be pretty safe Democratic strongholds," said David Corn, Washington bureau chief for Mother Jones magazine and a columnist for Politics Daily. "These should have been, in better times for Democrats, easier places for them."
If the Obama strategy falls short and Democrats lose control of Congress, Obama could recover in two years, said California Target Book's Hoffenblum, pointing to Bill Clinton's setbacks in the midterms.
"Bill Clinton lost control of Congress after his first two years of popularity waned and then he won reelection by a comfortable margin. There are so many intangible factors. Who would have guessed 18 months ago that the Democrats and Obama would be doing so poorly among the polls as they are now?" Hoffenblum said.
It's important to keep perspective, he said: "The midterms are not a precursor for what happens in 2012."
Cue Obama's entrance.
Click here to read how political analysts view Obama's pursuit of voters in "What's Obama Thinking When He Campaigns In Bowie, Maryland?"
To reach editor-in-chief Callie Schweitzer, click here.
Sign up for Neon Tommy's weekly e-mail newsletter.