National
Jon Stewart To Obama: Your Policies Too "Timid"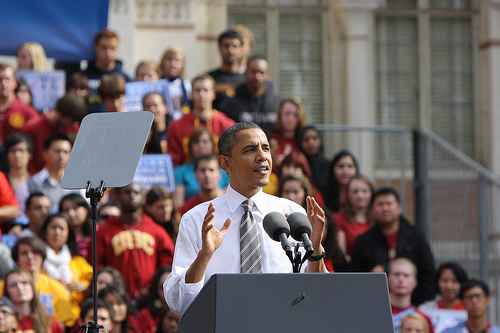 [UPDATE, 4:50 p.m.]: President Obama told John Stewart during his appearance on The Daily Show that his administration prevented a second Great Depression, but acknowledged the frustration of voters. Stewart countered that Obama's legislation was "timid," to which Obama replied that his health care legislation was far from meek.
***
President Obama and his advisors have determined that the road to midterm success leads through Jon Stewart and "The Daily Show."
Stewart, who will host his "Rally to Restore Sanity" on Saturday in Washingon D.C, brought Obama onto his show four times between 2005 and 2008. He'll host Obama for a fifth time Wednesday night.
One question that's been batted around: how tough will Stewart be on Obama? The Christian Science Monitor thinks: not very.
"Reason No. 1: Mr. Stewart is kind of, sort of, liberal-leaning. In a restrained "Rally to Restore Sanity" way."
Of course, Stewart has shown that he doesn't always play nice, as "Mad Money" host and financial loudmouth Jim Cramer found out in Jan. 2009.
Stewart said then: "I understand that you want to make finance entertaining, but it's not a f-ing game. Listen, you knew what the banks were doing, and yet you were touting it for months and months. The entire network was. And so to pretend that this was some sort of crazy, once-in-a-lifetime tsunami that nobody could have seen coming is disingenuous at best and criminal at worst."
But Obama is no Jim Cramer, and the exchange is likely to be cordial. Stewart gets to host the POTUS, and Obama gets to reach some of the youth vote he desperately needs.
One pundit said also that Obama's appearance is a tacit endorsement of Stewart's rally, which will be held in conjunction with Stephen Colbert's "March to Keep Fear Alive."
Obama will find out if "The Daily Show" is indeed the forum he needs to reach a disillusioned audience.