California
Let's Talk Education: Will The Next Governor Get California Out Of This Mess?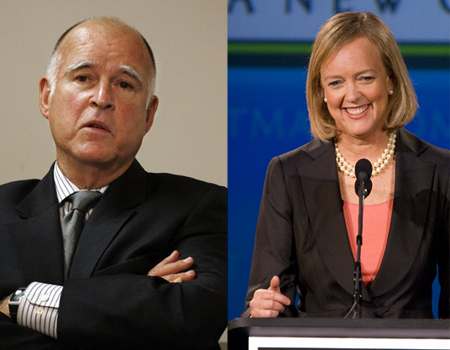 During a recent phone call with my mom, she asked me for a good website that described Jerry Brown and Meg Whitman's campaign positions for a colleague of hers at Cal State who, even as a Democrat, was considering voting for Whitman.
Did I hear that right? How could an educated professor, and a Democratic no less, consider voting for Whitman? Amid my confusion, I began to think about California's distressed public education system and what the next governor plans to do to move us in the right direction.
My mom's colleague is clearly invested in education, so perhaps Whitman has clear, innovative education reform ideas that he supports. I decided to compare the two gubernatorial candidates side by side in an attempt to determine who will make education a priority.
Higher Education
California's higher education system no longer provides a first-class education to all of its students. Classrooms are overcrowded and fewer classes are offered, which makes it more difficult to take basic courses. The high cost of tuition excludes tens of thousands of qualified students each year.
Brown wants to revisit the California Master Plan of the 1960s in order to make changes that allow the UC/CSU systems to remain sustainable, as well as to ensure that education funds do not continue to be transferred to the ballooning prison system. He supports expanding the use of technology in classrooms and, perhaps most importantly, understands that supporting community colleges is an important aspect of sustaining California's higher education system.
Whitman agrees that the UC/CSU systems are currently underfunded and that tuition is out of control, and therefore she proposes investing $1 billion from her proposed welfare and budget reforms.
The idea of injecting $1 billion into the UC/CSU system is great and would surely be welcome, but this assumes that Whitman can trim welfare and the budget while the Democrats, who advocate for social services, control the legislature. Cutting down on the already skeletal welfare benefits will also make it more difficult for people to get back on their feet and off welfare, ultimately adding to the budget deficit and further decreasing the pool of college-eligible students, especially among minorities.
Teachers
Good teachers are essential when it comes to creating well rounded, educated, and thoughtful students—the future generation of the United States. While there need to be changes made to either help or dismiss ineffective teachers, the current mood of "let's blame the teachers" is not going to solve the problem. (Here you can read my recent article about state workers). California schools face continuous budget cuts and a growing number of English-language learners, both of which increase the challenges our schools are facing.
Brown acknowledges that while supporting the best teachers and addressing the worst are important, focusing on "average" teachers by providing more in-depth training, encouraging teacher collaboration and recruiting the top third of high school graduates is a better focus.
Whitman supports providing bonuses to successful teachers, administrators and schools in order to attract the most qualified candidates. Due to a lack of qualified math and science teachers, Whitman proposes creating "alternative pathways" to allow for quicker accreditation.
Both Brown and Whitman agree that good teachers need to be rewarded, but Whitman's solution to getting better teachers in math and science is to allow for quicker accreditation. Quicker accreditation means less time preparing to become a teacher, which seems to contradict the whole idea of fostering better teachers. Brown, on the other hand, understands that by providing better training, teacher collaboration, peer teacher mentoring and more, "average" teachers will gain skills that make them even more effective.
Charter Schools
President Obama's Race to the Top program and the recent documentary "Waiting for Superman," have brought charter schools to the forefront of the United States' education system. Charter schools are being supported as a better alternative to public schools in many cases because they are more flexible and can therefore better adapt to the needs of particular students. The jury is still out on charter schools, however, and, as Diane Ravitch says, they are "not a silver bullet" to our education crisis.
Whitman is "a strong supporter of charter schools and will be an advocate for utilizing them more fully to create competition in the public school system," and she'll begin by eliminating the current cap on charter schools.
Brown, having started two charter schools in Oakland, is also a proponent of them. He acknowledges that there are bad ones and that they need to be closed, but he believes "they are an important part of the education fabric, providing parental choice and a source of innovation."
When it comes to charter schools, I cannot currently support Whitman or Brown's stances. There are many charter schools throughout the United States, including in California, that are extremely successful because of innovate administration, good teachers, and a creative curriculum. At the same time, there are charter schools that are floundering and clearly not providing a better education than traditional public schools. Diane Ravitch recently noted that she received an email from a public school principal who had received over 150 below basic students from a charter school in the middle of the year, making it impossible for the school to improve its own scores. There are many more stories like this, and while I believe that some specialized charter schools can have a place in bettering California's education system, promoting the privatization of our schools is not the answer.
On his campaign website, Brown also discusses detailed ideas about testing, curriculum, increasing proficiency in English, placing greater emphasis on science, technology, engineering, and math, improving graduation rates and supporting themed schools. Unfortunately, the three pages Whitman dedicates to education reforms are full of colorful graphs and lack real substance on many issues, even the ones she addresses.
California needs an innovative plan from a compassionate person—a person who genuinely cares about the future of education for every child, black or white, rich or poor, and will look at all sides of the issue to come up with the best solution.
Jerry Brown has a history of supporting education. As governor, he established stronger academic standards for high school students, increased Cal Grant funding, increased high school requirements to include more science and math, and created the California Worksite Education and Training Act so that students who did not see college in their future could have hands-on training and be guaranteed a job upon graduation.
There is no debating who has a better plan for putting California's education system back on track. His name is Jerry Brown.