Style
Hats Off To Hollywood Legacy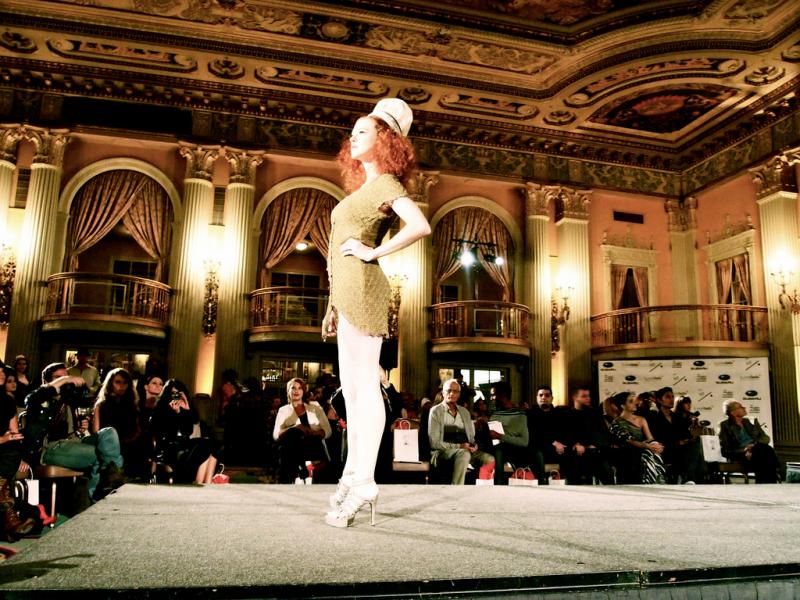 Fashion focus moved from the body to the top of the head at the Hollywood Legacy hat spring and summer showcase on Friday, October 15, 2010, sponsored by The Millinery Guild of Southern California.
From runway spectacles of sequined bonnets and flower creations to intricate military-inspired caps and fifties bowlers, Los Angeles designer collections were on display at the world-famous Biltmore Millennium Hotel in downtown Los Angeles.
The show was headlined by up and coming designer Mondo Guerra of the hit show Project Runway, who provided standout colorful fashions for the show's final collection. Guerra's distinguishable pop art palette of whimsical cartoony dresses, shorts and blouses were a knockout, bringing a spirit of fun and youthfulness to the hour-long LA Fashion Week event. His models wore crystallized block headpieces, which resembled avant-garde mousetraps in fluorescent hues.
Other clothing designers also had the chance to show off their runway pieces with the show's main attractions. With handmade production based in Culver City, cocktail dresses from Matruska Construction were the perfect complement for straw sombreros and summer hats. Mink Arcade presented stylized lingerie in a Hollywood glam meets vintage burlesquene flavor. Outfits were key to bringing together the complete look.
Vintage tees and oversized rock wear by Lekuin designs were also crowd favorites. Mixing distressed fabrics and shredded techniques to create a one-of-a-kind look, Lekuin clothing accompanied hat designs by Gladys Tamez, including a massive bird's nest hat that received huge applause.
Hat designer Relin Dudukgian sent down a glamorous collection of costume flapper hats, pill caps and hair accessories for her brand Bijou Van Ness. European military fashion headgear by designer Montez was one of the best showings. With a modern, square look to all the pieces, gold chain embellishments and studded decoration established striking head-to-toe appeal. Rihanna would be fan.
Los Angeles designer Anna Zeitlin also impressed with Fanny & June, her cute and playful collection of feathered bonnets and feminine fedoras with ribbon details.
Hats off to the The Millinery Guild of Southern California who produced fashion with a cause. The organization held a silent auction among the show's attendees for The Diva Foundation in support of Los Angeles HIV/AIDS organizations.
Reach reporter Christopher Agutos here, follow him on Twitter @masochris
Sign up for our weekly e-mail newsletter.