Entertainment News
Daily Hollywood- Spirit Day, The Talk, The Runaway, and Willow Smith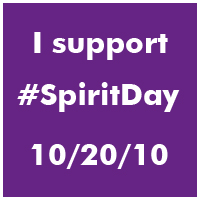 GLAAD has declared Wednesday, Oct.20, 2010 as Spirit Day, a day devoted to promoting equality and taking a stand against gay bullying. In honor of Spirit Day, everyone was asked to wear the color purple today to show support for those suffering in the LGBT communities, and to remember those who have taken their lives because of bullying.
Teenager Brittany McMillan created the idea of Spirit Day and the simple motto, "Everyone rally together." Celebrities have been rallying together and are trying to gather support for Spirit Day. "E News!" anchors, Ryan Seacrest and Giuliana Rancic, are sporting purple during today's broadcast. Jill Zarin, a GLAAD advocate, will be wearing purple and believes that in order to prevent bullying, parents need to teach their children acceptance. Khloe Kardashian tweeted, "Who is going to wear purple tomorrow to rep the end of bullying? I am!!"
If you find yourself lacking purple in your wardrobe, there are other things you can do to help promote Spirit Day. Supporters can change their Twitter and Facebook profile pictures to incorporate the color purple or they can download the purple graphic GLAAD has provided on its website. Also, people are being asked to make "#Sprit Day" a trending topic on Twitter and to tweet at GLAAD. The website, "EOnline!" has already gone purple today in honor of Spirit Day.
(Source: EOnline.com, Hollywoodlife.com, and GLAAD.org)
On Monday, CBS premiered a new, daytime show called, "The Talk". Compared to ABC's "The View," the show is a replacement for the soap opera, "As the World Turns." The show's hosts are Leah Remini, Sara Gilbert, Sharon Osbourne, Marissa Jaret Winokur, Holly Robinson Peete, and Julie Chen.
The talk show is definitely aimed toward the young, female demographic and each day, the hosts interview a different celebrity. This week's guests include Christie Brinkley, Jennifer Lopez, Melissa Rycroft, Chandra Wilson, and Jamie Lee Curtis.
The showed generated a modest 2.2 million viewers, while "The View" had 3.8 million viewers. Creators are hoping that once the show becomes more popular, its audience will grow, and the show will become a ratings force.
"The Talk" airs at 2 p.m. everyday on CBS. (Source: CBS.com, HollywoodReporter.com, and Variety.com)
Kanye West premiered his short film, "The Runaway," on Monday night at the Harmony Gold Theater in Los Angeles. West hosted the low-key event, and forbade all electronic devices inside the theater because he wanted viewers to focus all of their attention on the film.
"The Runaway" was meant to be a visual aid for his upcoming album, "My Beautiful Dark Twisted Fantasy," which is being released on Nov. 22, 2010. The film is about a phoenix, played by model Selita Ebanks, who West saves, but realizes that he cannot change her destiny.
The Hollywood Reporter described the film as "a stunning display of color and rhythm at the intersection of art, fashion, music, and dance." The film's imagery and "crystal clear" sound was meant to stimulate the audience visually and sonically.
Check out the song, "All of the Lights" on West's new album. It is collaboration with ten artists including, Kid Cudi, Fergie, Elton John, and Rihanna. West says, "It sounds completely seamless and ghetto at the same time."
(Source: MTV.com and HollywoodReporter.com)
Willow Smith, daughter of movie star Will Smith, has entered the music scene as a recording artist. Willow signed a record deal with Jay-Z's label, Roc Nation, and many say she has the makings to be a superstar, including her strong vocals and great sense of style.
Her fist single "Whip My Hair," is becoming a hit, and her video debut this week has gathered much attention with over two million views on YouTube alone.
Reach reporter Audriana Canaya here.