Music
CD Review: Toby Keith's "Bullets In The Gun"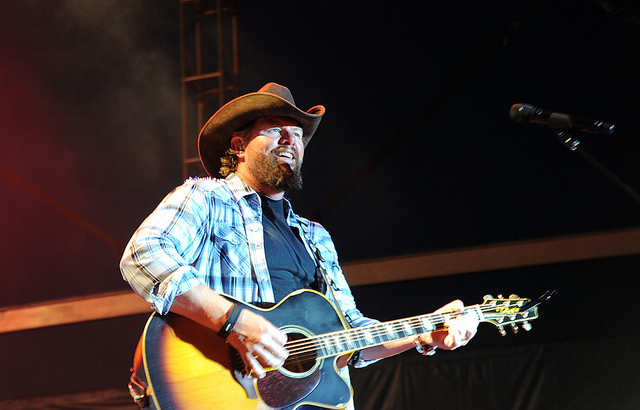 Toby Keith's latest release "Bullets in the Gun" hit stores this week but doesn't deliver anything out of the ordinary for his fans.
Despite its dangerous name, "Bullets in the Gun" includes a medley of witty, cleverly worded tunes reminiscent of Keith's popular 1990s hits.
If listeners are looking for something classically Keith, the first song, "Bullets in the Gun," delivers a good twang of country. With his traditional storyteller-style lyrics, the Oklahoma-born singer weaves a riveting outlaw tale with a "Bonnie and Clyde" feel.
He takes a turn for the strange in his ditty, "Trailerhood," a fun, light tune about the outlandish neighbors of a redneck trailer park. With the quirky melody that takes us down south, his sound mirrors his high-powered 2010 summer favorite, "American Ride," released earlier.
Keith proves he can do more than strum the guitar and belt out lyrics revolving around guns, beer and cars.
He proves just that in his next song, "Kissin' in the Rain," a sweet love melody that shows a softer side of the country star.
The singer is back to his roots in his roughneck tune, "Drive It On Home", that gives the end of the album a kick.
The rough blues feel brings listeners back to the Toby Keith they know: the All-American man "truckin'" out on the open road.
With the deluxe version of the album, fans get four live covers performed by Keith and his new side-project band Incognito Bandito. Musicians covered include Waylon Jennings, Johnny Paycheck, Roger Miller and Gordon Lightfoot.
Overall, "Bullets in the Gun" shows Keith's expertise in adding the blue-collar touch to country music. And he's still going strong. Keith produced the albim himself with the help of Mills Logan and Kenny Greenberg on the live tracks. Listen here on AOL's Radio's country music station.
Reach contributor Sarah Webb here.
Sign up for Neon Tommy's weekly e-mail newsletter.