California
California Cities Have The Highest Unemployment Rates (And They've Gotten Worse)
California's miserable 12.4 percent jobless rate no longer comes as much of a shock. Even Republican gubernatorial candidate Meg Whitman pointed out in this week's debate that the Golden State has the third-highest unemployment rate in the nation (behind Michigan and Nevada).
But perhaps more alarming is that 11 of the 15 least-employed cities in the nation are in California, according to a Bureau of Labor Statistics report on 372 metropolitan areas released Wednesday.
"For the worst labor markets, California clearly leads the way," the Atlantic Monthly commented in a blog post about the BLS report Wednesday.
I made an interactive map on the top five hardest-hit California cities on the list. (Click the image for a new page).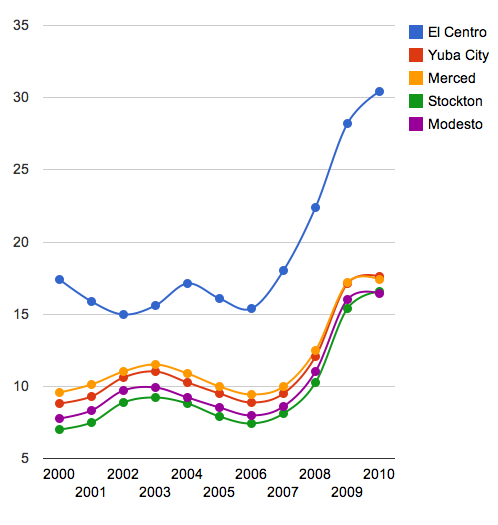 Interestingly, the rates for most of these cities didn't simply skyrocket during the 2008-2009 recession. All five cities saw a steep climb in jobless rates starting in 2006. In some, like El Centro, nearly a third of the population is currently out of work - more than in Zambia and almost as many as in Afghanistan.
What happened to the state that was supposed to lead America in "green jobs" and computer technology? First and foremost, construction and manufacturing jobs have all but vanished. From Harold Meyerson at the LA Times, here's a statistic that could explain what happened in the second half of the decade:
"Between 2005 and 2009, the number of residential construction permits fell by 83 percent...And over just the last two months, the number of home sales has again declined sharply, now that federal stimulus benefits for buyers have trickled to a halt."
It's not clear if those two industries can ever be fully revived, but it is clear that come November, the new governor's most monumental task will be keeping "El Centro, California" from becoming the new "Flint, Michigan."
To reach Olga Khazan click here
Sign up for our weekly newsletter