California
Boxer V. Fiorina: The Obamas Weigh In And Money Pours In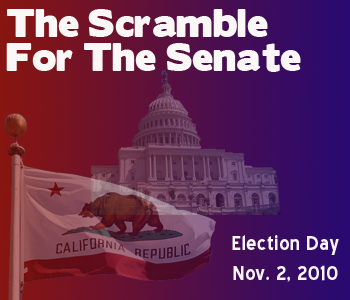 With the incumbent Senator Barbara Boxer holding tightly to a
small lead
in the polls despite outspending Carly Fiorina two to one, the White House is throwing all the support it can behind its Democratic daughter.
The San Francisco Chronicle reports: "Word is that First Lady Michelle Obama will be coming to [California] next week, probably Tuesday and Wednesday."
Mrs. Obama will try to give a boost to the flagging Boxer, who spoke Friday at the University of Southern California. Boxer said: "The other side is trying to depress voter turnout. The pollsters have already decided who's going to win, who's going to lose. But the problem is, we haven't voted (yet)."
President Obama held a fundraiser luncheon for Boxer on Friday before headlining the USC event. By one account, it was a very lucrative day:
"It was ... a wildly successful, upbeat lunch with superstar entertainment. Stevie Wonder addressed the crowd and played several songs. Magic Johnson was scheduled to attend but got stuck in traffic. A lot of prominent Democrats were on hand, but the only speakers were Boxer and Obama."
To get an idea of the kind of money on the table: "Tickets ranged from $1,000 to $32,000. The $1,000 scored donors VIP Parking, lunch and VIP seating at the rally on Campus. If you ponied up $32,000, donors got a private moment with the President and a photo op."
Republican challenger Carly Fiorina has loaned her campaign $1 million from her personal assets. Although she lent her campaign $250,000 during the primary, this is the first time she's spending her own cash in the general election.
In a critical profile of Fiorina on Friday, the LA Times (which has regularly been critical of Fiorina's stance on the issues), wrote that the candidate is fighting the image of "a pompous diva, aligned with the most strident factions of her Republican Party, pampered by a golden parachute after being fired from her high-profile job."
The New York Times' Friday coverage of the USC rally quoted a GOP leader on the Boxer/Fiorina race: "I'm as bullish on this race as I am anywhere," said Rob Jesmer, the executive director of the National Republican Senatorial Committee. "I think we have a really, really good chance. Boxer's time to kill Carly was September, and she didn't do it."
Reach Kevin Grant here.
To follow him on Twitter.
Sign up for Neon Tommy's weekly e-mail newsletter.