Style
Angel Johnson, Bryan Hearns And Mila Hermanovski For CONCEPT Fashion
CONCEPT Fashion held runway shows and installations throughout the weekend in the Spring Arts Tower in Downtown Los Angeles.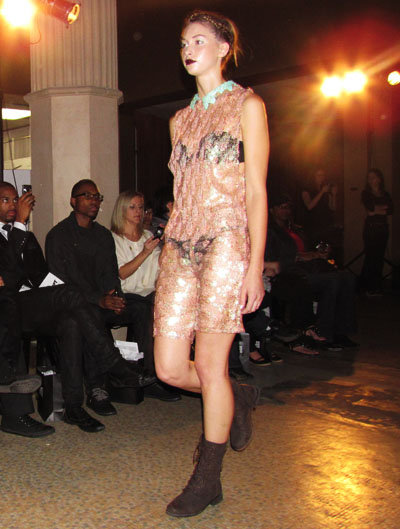 Angel Johnson:
Johnson's collection had a rocker goes space-age mermaid vibe. The hair on her models consisted of many different size braids wrapped around their heads. The colors of the collection were white, pale pink, and sea-foam green. The black accents in her pieces played up her models black painted lips.
Adhering to the spring trend of sheer fabrics, most of her pieces were see-through pink or white lace with black undergarments peeking through. Worn with combat boots, the looks were very "of the moment" and could be easily pictured walking down a Los Angeles street.
From a sea-foam constructed dress to a pair of lavender lace hot-shorts, the collection was fluid and moved seamlessly down the runway. Save a few constructional errors, like zipper placement, the collection was unique and inspired.
Learn more about Angel Johnson at http://www.angeljohnson.us/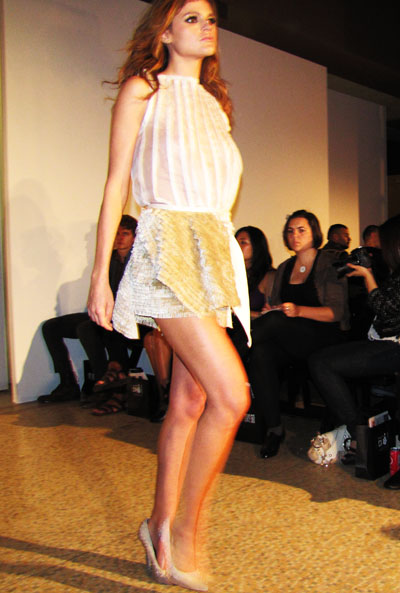 Bryan Hearns:
Hearns opened his show with a white shirt asking the simple question "Born Free?" If not anything else, he proves that women are free to wear metallic blue skinny pants and thigh-skimming mini skirts.
With a color palette of brown, cream, and blue, Hearns plays around with textures like bumpy leather, lace, and fringe. Theres a kind of perfect asymmetry to his skirts, adding cream fringe or uneven brown leather to just one side of a cream mini-skirt looks just right.
Unhemmed tweeds and sheer tops are on trend this spring and Hearns has mastered them in his crop tops and structured mini-skirts. He also added black velvet and feathers to one skirt, which is unexpected in Spring, but he makes it work by pairing the skirt with a tank top and pumps.
Learn more about Bryan Hearns at http://bryanhearns.com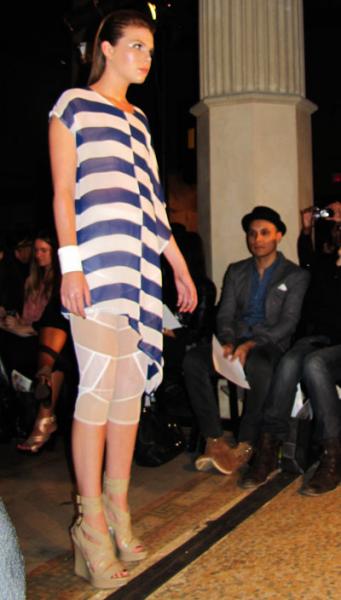 Mila Hermanovski:
The only show that filled up its front row immediately, the Mila show started with a video of flowers and leaves bursting on a screen. The collection was minimalist and modern, taking a que from the established designers like Celine and Chloe.
The colors were white, beige, and navy. The leggings, included in most of the outfits, were reminiscent of Rodarte and were geometrical and white. The whole environment was very space-age. Flowing dresses and tops were paired with slim capri pants.
Without the alien-like hair and makeup the clothes were very wearable and could be paired with separates in anyone's wardrobe.
Learn more about Mila at http://www.milahermanovski.com/
Reach reporter Tess Goodwin here.