Opinion
Top 5 Reasons The GOP Will Win In November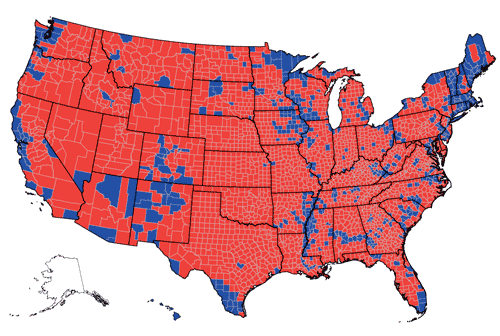 On November 2, 2010, the GOP will once again regain control of Congress. Here are five reasons why:
1. Obamacare
When the Senate's version of healthcare legislation was passed in the House of Representatives and signed into law - immediately - by President Obama, the country was watching. The majority of the public (54%) opposed the health care bill, but found themselves ignored by the Obama administration.
Having healthcare rammed down our throats did not sit well with many people, especially considering that the government is supposed to be representative of the population. The public did not forget the entitlement many politicians portrayed, and now Democrats - especially those who changed from a no vote to a yes vote in March - are beginning to realize it is our turn to make decisions for them. It seems our elected officials have forgotten that they report to us.
2. Jobs
Does anyone remember the report Christina Romer, Obama's Economic advisor, released concerning the American Recovery and Reinvestment Plan's Job Impact that stated, "Without the plan, the unemployment rate …would be a whopping 8.8 percent. Under the plan, unemployment in 2010 would be 7 percent"?
Really? Without the plan unemployment would be 8.8 percent? Yes, that's what it said, but the unemployment rate right now after implementing the $814 billion stimulus is 9.6 percent. Don't worry. Ms. Romer resigned as the Chair of Council of Economic Advisers in September. She will, however, continue to serve as a member of the President's Economic Recovery Advisory Board. Clearly economic recovery is her specialty. I have to ask…. What the heck are they thinking?
Either way, the reality of high unemployment rates in America is obvious. If you are lucky enough to have remained employed, chances are someone you know has lost their job recently. And it is only going to get worse. "…the unemployment rate will probably continue to rise into the second half of next year and peak above 10 percent," Douglas Elmendorf, Director of the non-partisan Congressional Budget Office, said in prepared testimony to the U.S. House Budget Committee in May of 2009.
3. Cap and Trade
West Virginia Democratic Gov. Joe Manchin said it best, "It would be the ruin not only of our state of West Virginia but of the entire economy of this country."
The current government suffers from do-what-I-say-itis. They want to come up with what they believe is a safe amount of CO2 and then auction off permits to those who emit those gases. Now let's pretend for a minute that we all believe in Global Warming. Instituting this kind of bill during an economic recession is absolutely insane. There is no better way to discourage investment than by taxing businesses.
Companies that are faced with costs for permits are also likely to pass off that cost to consumers. Do you want to see the cost of your electricity bill skyrocket? If you said "yes." then cap and trade is your new best friend.
4. Amnesty or "Comprehensive Immigration Reform"(yes, we know it's the same thing)
Illegal immigrants residing in America are criminals. No matter why they came to this country, they broke the law by coming here, staying here, working here and not paying taxes on their income here. Amnesty is a reward for breaking the law and encourages more people to break that same law.
We saw this when Ronald Reagan gave amnesty to illegal immigrants who had been residing in America more than five years in 1986. Amnesty did not solve the problem; it made it worse. There was extensive document fraud, the number of people applying for amnesty far exceeded projections and the number of illegal aliens doubled from 5 million in 1986 to 10.8 million in 2009.
Immigrants who go through the immigration process are rightly rewarded with citizenship. Those who do not should not be. They should not be rewarded with any type of free program either. Amnesty just gives them another reason to use criminal means to get what they want. You want to be a US citizen? Then join the American military. You fight for us and we will fight for you.
5. Out-of-Control Government Spending
Right now we have a national debt of $13.6 Trillion. Federal spending has almost hit $3.5 Trillion, roughly $122,000 per taxpayer. Graduating college? Welcome to the work force. Now pay off the debt the government created for you.
There is this strange idea that the government is footing the bill oftentimes. Obama, Biden, Pelosi and Reid are not paying for free healthcare, schooling, welfare, Social Security, Medicaid and Medicare. This money comes from taxes. It is money you earned. It is money the government feels they have the right to take. So the term "free" really doesn't mean you aren't paying for it (unless you don't pay taxes on your income, and in that case, have fun in prison). The government basically gives someone the shirt off your back and then takes the credit for it. Sweet of them isn't it?
The Obama stimulus proposal, or American Recovery and Reinvestment Act, took quite a chunk of your hard earned dollars in February 2009 for "shovel-ready projects" (some of which have yet to begin). The stimulus signed by the president will cost the taxpayer $814 billion according to the CBO.
And the government doesn't stop at social programs or stimulus projects. They think your money is worth spending on lots of other things too. House Speaker Nancy Pelosi spent almost $3,000 of your money for five months on flowers in 2009. She also spent over $101,000 in tax dollars on in-flight services (lots of it being liquor) from 2008- February 2010 and spent a grand total of $2,100,749.59 on travel expenditures for herself and her family.
According to the Heritage Foundation: "Since 1965, taxes and spending have been rising. Federal revenues have dropped recently due to the economic recession while spending has reached a record high."
What does all this mean? It means people are angry and they are ready to show the government who's boss. Get ready for "We the People" to make a comeback.
Reach Columnist Jennifer Kendall here.
Sign up for our weekly e-mail newsletter.