Los Angeles and Region
Riding The L.A. Tweet-Wave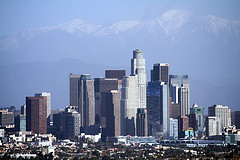 History books may remember Monday as the hottest on record in downtown Los Angeles — 113 degrees and possibly higher (the National Weather Service's thermometer
actually broke down
) — but the tales were told in stories 140 characters or less. As the mercury crept upwards, tweets about the heat in LA blazed on. Some were funny, some serious, most just a bit delirious.
Here is the Heatwave of September 2010 in tweets:
@agentsmithfiles #laheat should be a trending topic...sheesh.
@platypusrobot What did I do to deserve this heat? I'll repent if that's what it takes, just please God cool it off a bit.
@spunkyystuff It's so hot right now I saw a crackhead with a puff coat on.
@thatgirldemi The upside to this #LAheat is tanning. I'm gonna go outside in my backyard and get these tan lines evened out.
@therealNOX Please dont take yall small children outside in the #LAHEAT today, we dont need the lil ones having heat strokes!
@thatgirldemi This isn't LA, this is Africa!
@hellowarshauer If life were a Tennesse Williams play, this heat would signify that trouble was a brewin' in this here town.
@mlewey Still gloating over decision to ditch anything work-y today and escape to the beach. Question is, can I do it again tomorrow?
@garyjbusey With all the heat in LA, I wonder how many people have to get their plastic surgery redone.
@lord_voldemort7 Record breaking heat & the threat of a 6.0 earthquake. Do you see what happens when you release Lindsay Lohan, LA? DO YOU SEE NOW!?!
@safitaffy99 You guys on the west coast are wimps.
Reach reporter Tom Dotan here.