Technology
Return Of FratMusic.com Has College Kids Raging Again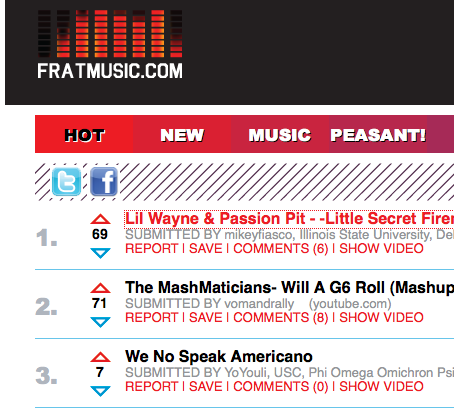 Music-based social network FratMusic.com opened its doors again to Internet users on Monday morning.
The website went down indefinitely in the late spring because the four twenty-somethings behind the site were graduating from the University of Virginia. They wanted to re-think their plan for the site during the summer.
"We've grown so big so fast, that we need more of everything," the "FratMusic Team" said in May. "We're at the point where we either need to go home and sleep it off, or just go for it and see what happens. And fuck it, we're going for it."
The website contained playlists for various genres of remixed party music--with all of the music posted to the site by users who listed their college or university alongside their usernames.
Because the website had to invest in new hardware to handle its growing user base and had to start licensing music from record companies, financial losses were adding up. Part of the summer hiatus was likely spent developing ideas to increase revenue from the operation. The team also looks like it added and subtracted members during the summer.
The re-launched website has advertising and goes beyond playlists by allowing users to submit videos, pictures, news stories and blog posts for other users to vote on. The best content pushes to the front of ranked lists. There's also a music-only list.
The new front page auto-plays high-quality music from 8tracks.com. However, you have to hover over the box on the right column to stop or pause the music. That creates a problem when you click an out-bound link such as one to a video on YouTube. The YouTube video opens in a new browser tab, leaving two tracks of music playing if you didn't stop the original song first.
Overall, it's easier and quicker to get to the best music. The expansion to other categories of information makes FratMusic more of a destination website for the bored. The music will continue to attract the studying and the raging.
The reviews from fans have been mixed, ranging from outright jubilation about the website's return to disgust with the changes meant to keep the website out of legal troubles.
"The new fratmusic.com is like the Jersey Shore of websites. Horrible, yet so secretly appealing," one woman said in a tweet.
FratMusic originally launched in September 2009. By the end of the academic year, the website was attracting 100,000 visits a day.
More changes should arrive in the coming months, as the website's programmers fine-tune the new look.
What are your thoughts about the redesigned FratMusic.com? Still love the music? Hate the look? Comment below.
To reach reporter Paresh Dave, click here.
Find him on Twitter: @peard33.
Sign up for Neon Tommy's weekly e-mail newsletter.