National
Obama To Tour Four States As Polls Show Democrats Slipping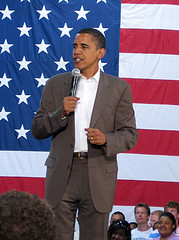 President Obama has embarked on his campaign-style tour through four states, trying to boost Democratic support in a midterm election that polls show favors Republicans.
Obama will start out in Albuquerque, N.M. where, on Tuesday afternoon, he will hold a small gathering in a private home. He plans to address the economy, the leading issue in these elections, and education.
On Tuesday night, the president is scheduled to attend a Democratic rally in
Madison, Wisconsin. Then, on Wednesday, Obama plans to host another set of small, intimate meetings, which were a staple of his campaign, in Des Moines, Iowa and Richmond, Va.
The trip has been explained as a way for Obama to "continue conversations with middle-class Americans." It is not a coincidence, however, that this tour also comes at time when Obama's job approval rating is at only 44 percent, and satisfaction with Congress is below 40 percent, according to the Gallup poll released Monday.
The so-called generic ballot, a test of how voters see the main political parties, showed that Democrats and Republicans are tied among registered voters. But Republicans seem to have an edge among partisans who say they will vote. Almost half - 48 percent - of Republicans say they are eager to vote, while only 28 percent of Democrats say the same. The margin of error of plus or minus is two percentage points for all findings.
Obama hopes to shift these sliding numbers in favor of the Democrats in the four states he is touring. He won all four, some narrowly, in the 2008 presidential elections.
Reach reporter Kate Shumway here.
Sign up for Neon Tommy's weekly e-mail newsletter.