National
Obama Remains Dedicated To Climate Change Legislation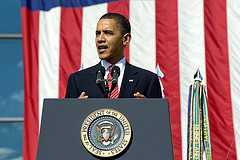 President Obama is
remaining devoted
to his new strategy on energy and climate change despite the Senate's failure to pass a new cap-and-trade bill, he said in a new Rolling Stone interview.
In the transcript, posted online Wednesday, Obama makes it clear that climate legislation is at the top of his agenda for 2011.
"One of my top priorities this year is to have an energy policy that begins to address all facets of our overreliance on fossil fuels," Obama said.
He hopes to reduce greenhouse gas emissions by about 17 percent over the next several years.
Obama says the nation is on track so far with the passage of, "the first increase in fuel-efficiency standards in this country in 30 years." This rule, which applies to all trucks and cars, has created a result that is comparable to taking millions of cars off our roads.
But is the president satisfied with the progress so far?
"Absolutely not," he said. "The investments we're making in research and development around clean energy are also going to be important if we're going to be able to get all the way there."
The president added that new legislation would not likely be passed all at once, but instead, "in chunks."
Critics such as Eileen Claussen, president of the Pew Center on Global Climate Change, are more skeptical.
"I don't know what kind of legislation, if any, you can get next year or even in 2012," she said. "I think the odds of getting serious stuff done legislatively are very small."
Meanwhile, Senate majority whip Richard J. Durbin of Illinois stood by president. "If there's a way to do this in smaller pieces with bipartisan cooperation, which we'll definitely need, then I want to do it," he said.
Either way, Obama says he is committed to the climate and the need for legislative change. "We're going to stay on this because it is good for our economy, it's good for our national security, and, ultimately, it's good for our environment."
To reach reporter Marlise Knechtle, click here.
Sign up for our weekly e-mail newsletter.