Music
Major Lazer Brings "Pon De Floor" To Hollywood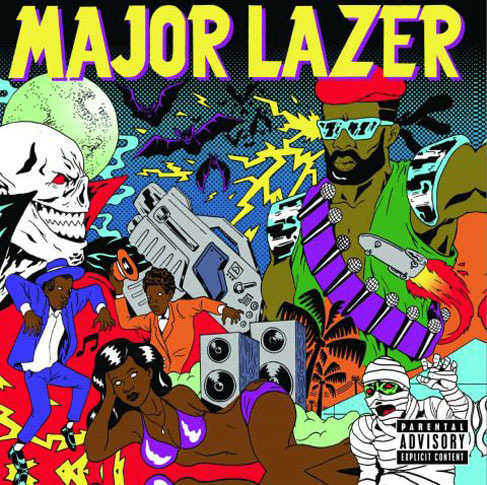 I am not, nor will I ever be, a "rave child."
The idea of jumping up and down in a sticky mass of people and rave "candy" bracelets dotting my arms has never appealed to me. But, when I attended the Major Lazer show Friday night on a whim, I gamely put on face glitter and a metallic mini-skirt to experience the eccentric Diplo/Switch collaboration.
Set at the Avalon - a burgundy bordello-style venue in Hollywood with low lighting and a relatively young crowd - ravers crammed onto the dance floor for three acts of DJs. Without knowing anything about electro-house music, even I could identify the captivating appeal of Major Lazer.
The show featured seamless song transitions in an endless stream of sound, and the definitively scratchy "Major Lazer" hype track kept the energy level high. Of the most recognizable songs was "Pon De Floor," which video features a Jamaican-style dance called "daggering" where a couple simulates sex moves to the beat.
DJ Them Jeans and another act also performed in what felt like a blur of repetitive beats - mostly the remixed "Pursuit of Happiness" track and songs with a similar style to that of "Pon de Floor."
Music blasted from 9:30 p.m. to 4 a.m., and while it's appealing in theory to dance until the sun comes up, Avalon's late-night shenanigans are questionable at best.
After Major Lazer's set, the atmosphere quickly moved from fun with a dash of sketch, to three parts sketch and one part marimba. The average age increased by about 20 years and fights broke out on the dance floor between amped-up shirtless guys.
While sitting in a large balcony, I saw a bouncer shine his flashlight on a group of people in various states of undress, scrambling to find their tops and presumably take the party elsewhere.
When I located my group of friends and staggered out of the club, the beat was still ringing in my ears. Discussing paying the cab driver felt like an abstract concept after six hours with nothing but the concreteness of the pulsing beat forcing my body to feel something, reluctant raver or not.
Reach Elizabeth here.
Sign up for Neon Tommy's weekly e-mail newsletter.