Los Angeles and Region
Los Angeles Muslim Community Serves Skid Row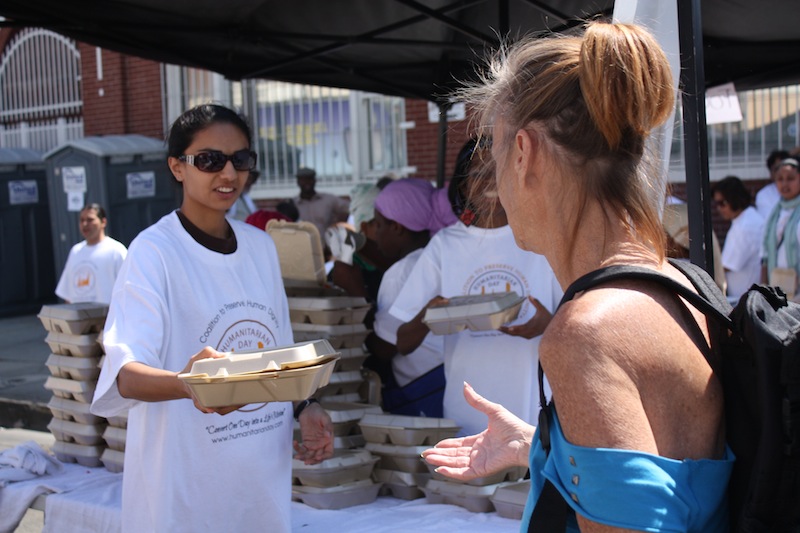 Hundreds of volunteers from the Muslim community of Los Angeles distributed free food, medical care, clothing and other basic supplies to the homeless of Skid Row on Sunday. The volunteers were joined by a coalition of other religious communities, including Jewish, Christian and Mormon representatives, as well as members of the Los Angeles Police Department and area hospitals and clinics.
Crowds of homeless gathered to participate, waiting patiently in a line that stretched several blocks from the cordoned-off area on Towne Avenue where provisions were being distributed. Some were in wheelchairs; others pushed carts that contained all their earthly belongings along with them.
Under the looming Los Angeles skyline, volunteers ushered the recipients through various stations at which they were given bottles of water, blankets and food. More than 3,000 meals were distributed during the event, according to organizer Asif Kazi of the Coalition to Preserve Human Dignity. Volunteers also distributed hygiene kits, toys, back-to-school packs, clothes and other goods.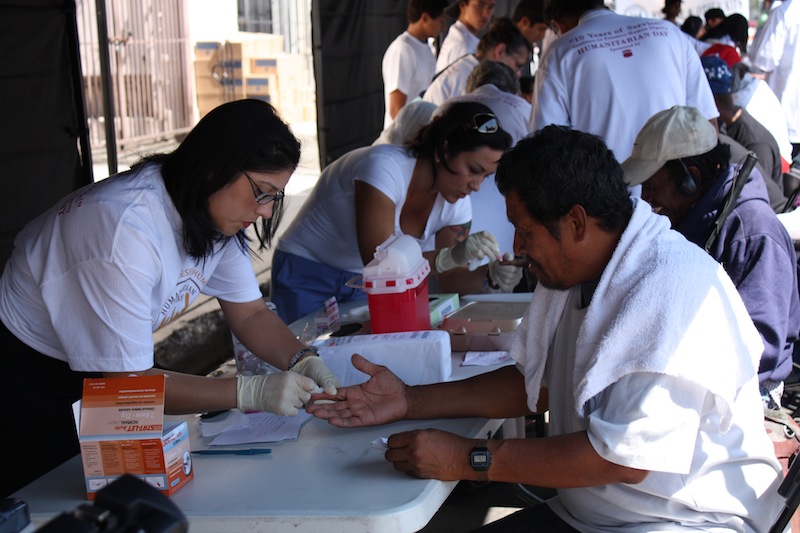 The event's objective was two-fold: to serve those Los Angeles community members most in need and to improve the image of Muslim-Americans in a post-9/11 world.
"We are not terrorists, and in most cases we are being terrorized," said Naim Shah, California Chair for Humanitarian Day, one of the sponsoring organizations. "This is a day for us to show the world who we really are; we are a people who not only believe in peace, but, as a part of our religion, practice peace."
Samir Abdullah Matullah, an Egyptian-American member of the LAPD emphasized the message of the event.
"Being a Muslim is a great thing," he said, adding that his identity as an Arabic-speaking police officer has allowed him to "work with the [LAPD] and show them my side of the story."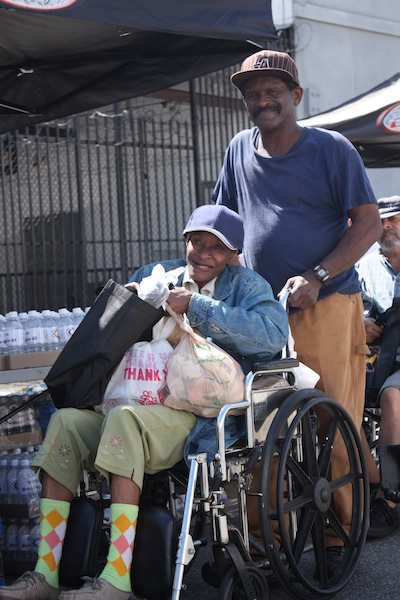 Area Imam Saadiq Saafir, the founder of ILM Foundation, made a surprise appearance at the event, receiving a raucous reception from the crowd, which shouted numerous "Alhamdulillah's" upon his arrival. He told the crowd that, "when we help each other, we really help ourselves."
Saafir's message seemed to resonate with all participants. Muslim volunteers in hijab smiled and danced alongside Skid Row homeless in wheelchairs to the hip-hop music blasting from speakers at the event.
As the event drew to a close, the regulars of Skid Row retreated to the rare shady spots on what was a hot day, eating the food that was distributed and repacking their carts to accommodate their new possessions.
On any given night, approximately 82,000 people spend the night on the streets of Los Angeles. Food distribution and provision of free medical services are necessary to meet the most basic human needs, but the structural forces that keep the area's impoverished on the streets are a much harder problem to address.
Sunday's event demonstrated that a working partnership between social services organizations and area police authorities can occur on amicable grounds. It remains to be seen if that partnership has the staying power to extend beyond one day of concrete, good-willed cooperation.
Reach Reporter Mary Slosson here. Follow her on Twitter here.