Film and TV
Justin Bieber Shows Off Acting Skills in "CSI" Premiere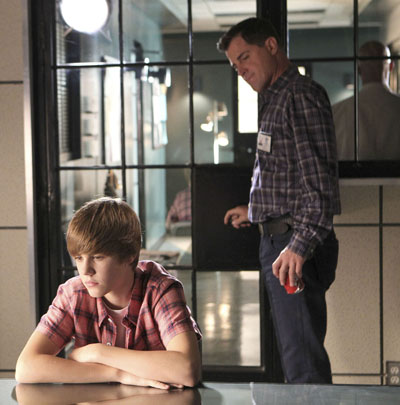 It's finally here. The much-anticipated "CSI: Crime Scene Investigation" season premiere has arrived and we can finally find out what happens to newly-appointed front man Laurence Fishburne III as Dr. Raymond Langston.
In last season's finale, audiences are left wondering if Langston would make it to another episode after a psycho-killer stabbed him through jail-house bars.
This episode sends shock waves through the audience with a gut-retchingly explosive beginning that stabs at the heart of what makes the crime drama so captivating. Despite people secretly holding onto the hope that Gil Grissom (William Petersen), the beloved forensic entomologist loved by all, is still coming back, it doesn't look like he will walk through those glass doors to talk about the newest bug discovery mentioned in the latest edition of the quarterly-published magazine "American Entomologist" any time soon.
Although Warrick Brown (Gary Dourdan) and Petersen's absences cannot go unnoticed by fellow characters and the viewers, one thing that hasn't changed over the seasons is the plethora of guest appearances by oh-so familiar faces. Lindsay Pulsipher ("Crystal Norris" on HBO's "True Blood") makes an appearance as the widowed wife of an American service member.
But the big buzz is primarily blanketing 16-year-old Jason McCann, played by someone the tween world may recognize as Justin Bieber (the same Bieber of "Bieber Fever" fame – a physical phenomena I am not all too familiar with). Biebs joins a rank of stars before him, like self-proclaimed singer Ashlee Simpson, and songwriter Taylor Swift who played murder victim Haley Jones in last season's episode "Turn, Turn, Turn."
Surprisingly, Bieber's character isn't anywhere near the smooth, carefree, all-about puppy love, persona he generates in his catchy R&B hit music videos. Still rocking his well-known floppy hair-do, Bieber gets an opportunity to play a darker character his fans don't usually get to see.
McCann and his brother are two young men who have extreme issues with, and some would argue a deep hatred for, authority. According to disneydreaming.com, Bieber said, "the [acting] coach told me it was all about the emotion. She said, 'you have to feel the character. You have to be Jason.'" And he successfully traded in Justin for Jason when cameras rolled.
This opener is as explosive as the bombs that permeate the season's first episode. The show that competes in the same time slot as ABC's "Grey's Anatomy" will continue to blow up the competition because it understands the formula for television success. Mathematically, the longevity of the show should be credited to the formula of amazingly in-depth character development, famous faces packed with star power, and any combination of the following: blood, sex and danger.
In the end, the episode is left hanging with Bieber's troubled kid character in a orange jumpsuit with an evil look in his eyes and mischievous smile on his face almost telepathically telling viewers that he'll be back. For those that belong to the "Bieber Nation" don't fret his second appearance is due to hit T.V. screens in February. He has certainly offered viewers "Somebody to Love" or hate in the new season. Watch the episode and you can judge the teen sensation's acting skills for yourself.
Reach reporter Jeffrey Ledesma here.