National
Hurricane Earl Weakening As It Moves Up East Coast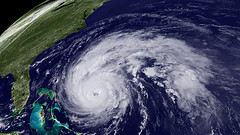 Hurricane
Earl
was
recently downgraded
to a category 1, but the
East Coast
is still bracing itself for the worst.
The storm pounded North Carolina on Thursday night, sweeping up the coast with winds faster than 100 mph.
The National Hurricane Center issued hurricane warnings for cities on the coast of North Carolina as well as parts of Massachusetts and Rhode Island.
Most coastal North Carolina cities had evacuated by the time Earl reached the coast. Massachusetts Governor Deval Patrick has declared a state of emergency, and Nantucket, an island off the coast of Massachusetts, has set up emergency shelters.
Though Earl is only a category 1, there's still serious potential for damage.
In 1999, Hurricane Floyd approached North Carolina as a category 3 but was downgraded to category 2 after hitting land. Floyd killed 51 people and left thousands homeless.
Experts are warning that although Earl might not have a disastrous impact, it could be a sign of things to come.