Nation and World
Gulf Oil Platform Explosion Off The Louisiana Coast Boosts Support For Moratorium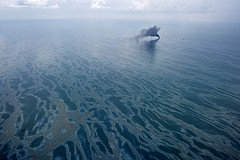 Thursday's
oil platform explosion
in the Gulf of Mexico off the Louisiana Coast has increased support for the
Obama administration's moratorium on deepwater drilling
.
The explosion, which occurred west of the site of BP's Deepwater Horizon spill, marks the second disaster in the Gulf in less than five months.
"Today's news comes as no surprise," Kieran Suckling, executive director of the Tucson-based Center for Biological Diversity, said to the L.A. Times. "Offshore drilling in the Gulf of Mexico is like playing Russian roulette. Its not a matter of if something will go wrong, it's a matter of when."
No one was killed in Thursday's explosion, and all 13 crew members were rescued from the water. The Coast Guard reported one person injured, but the company said there were no injuries. All of the maintenance workers on the platform were released Thursday evening.
The Coast Guard initially reported an oil sheen a mile long and 100 feet wide had begun to spread from the site of the blast, but hours later Coast Guard Cmdr. Cheri Ben-lesau said crews were unable to find any spill. Ben-lesau said the fire on the platform has been put out.
The company that owns the platform, Houston-based Mariner Energy, did not know what caused the explosion.
The explosion has intensified pressure on the Obama administration to renew the moratorium on deepwater drilling.
"It's time the government put all offshore oil and gas operations — whether they're exploratory wells or production operations — on hold until we know they're safe," Suckling said. "The price we've already paid for BP's Deepwater Horizon is too high. We cannot risk any more disasters."
The administration has said it plans to keep the current drilling moratorium in place until the end of November, but there has been pressure to lift it sooner.
Reach reporter Amanda Tran here.