International
Reparations To Haiti Would Make A Bad Situation Worse
Here's a really good idea to ensure that Haiti is as poor and undeveloped in the coming century as it was in the last: mail the country a check for $21 billion.
Unfortunately, it's not my idea, but the idea of about 120 prominent leftist intellectuals including MIT's Noam Chomsky, Princeton's Cornell West and USC's very own professor of American Studies, Robin D.G. Kelly.
In an open letter to French President Nikolas Sarkozy last week, the consortium called for a repayment of the 90 million franc debt imposed on Haiti by King Charles X following that nation's independence in the early 19th century. As a condition to recognize Haiti's sovereignty, Charles X demanded France be compensated for the loss of the colony and French slave-masters be compensated for the loss of their slaves. That debt was finally paid off by Haiti over a century later, in 1947.
Valued at 17 billion Euros (or USD $21 billion), the letter's signatories say that, "the basic needs and development aspirations of generations of Haitians were sacrificed," in order to repay this debt. The letter also claims that loans given to Haiti by other nations and international lending organizations did "measurable economic and human damage."
Setting aside the moral questions about whether the distant descendents of the French Bourbons ought to be repaying the distant descendents of Toussaint L'Ouverture, Haiti is a perfect case in point about the danger of heaping a pile of money onto an extremely questionable government.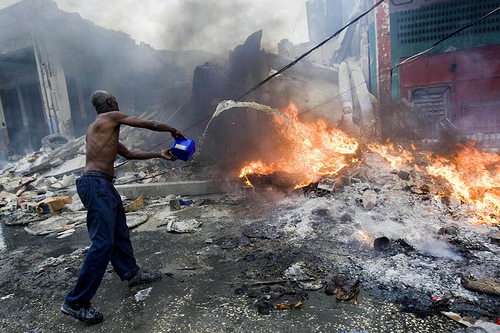 Even before the January earthquake, foreign aid accounted for between
30 and 40 percent
of Haiti's budget. Between 1990 and 2003, Haiti received about $4 billion in foreign aid, mostly from tax-payers of developed nations. That money went to fund athe Preval government ranked as
one of the most corrupt
in the world by several international agencies, in a nation where half the population is illiterate and 75 percent live on less than $2 per day.
If that sounds bad, consider the period from 1957 to 1986, when Haiti spent three decades under the father-son dictatorship of Francois and later Jean-Claude Duvalier. Millions in foreign aid money during that time went either to fund death squads responsible for the murder of about 40,000 Haitians, public works projects that usually ended up going nowhere or just straight into the Duvaliers' pocket. It's estimated that about 80 percent of all foreign aid during that time was simply embezzled by members of the government. When the Reagan administration finally forced Jean-Claude Duvalier to leave, he took an estimated $900 million in pilfered aid money with him to France.
The Haitian example perfectly illustrates the major flaw of foreign aid—it allows corrupt and ineffective governments to flourish in spite of a nation's lack of any economic base from which to draw revenue. Making a nation dependent on foreign aid allows leaders to ignore the needs of their population and commercial enterprises since they a're no longer dependent on them for taxes. Nowhere is this blatant disregard for a population more evident than in Haiti, where, according to Peruvian economist Hernando de Soto's book "The Mystery of Capital," it takes 19 years of wrangling with the bureaucracy simply to get formal recognition that you own the land upon which your house is built. It's no wonder that according to de Soto's research, about 68 percent of city dwellers and 97 percent of people in the countryside have no clear legal property right to their own home.
Hundreds of millions of dollars in no-strings-attached aid does not incentivize governments to open failing national industries to private investment nor does it incentivize them to develop the necessary legal structures essential to ensuring property rights and basic commerce in their nations. Zambian economist Dambisa Moyo lays out the strategy clearly. If governments relied on financial markets for money, their creditors would demand more transparency and accountability. If governments relied on their citizens for revenue, then taxpayers would demand greater protections and freer elections.
If developed nations wish to help the impoverished third -world, they can start by eliminating the myriad protectionist tariffs and trade restrictions that create barriers for foreign goods to compete in the marketplaces of OECD nations. Secondly, aid should stop flowing to governments and start focusing on promoting local entrepreneurship--the real engine that drives the economies of the developing world. That's not to say that reforming nations like Haiti is a quick and simple process, but continuing to finance bad government just assures that these countries will never take that crucial first step.
One would think that such a distinguished group of academics and intellectuals would already know this, but, in essence, they signed a letter demanding that Haiti be kept poor, undeveloped and miserable for decades to come. After more than 50 years of failed aid policy, asking the French government to send Haiti another $21 billion is about as helpful as asking them to send another earthquake.
Reach Columnist Stan Oklobdzija here.