Los Angeles and Region
A Look Into L.A. Unified: Community Magnet
The Los Angeles Unified School District overflows with bad news. The second largest school district in the country has a graduation rate of a mere 72 percent, 8 percent lower than the state average. Thirty-two of the city's worst performing schools were essentially auctioned off to rebuild as charters. The school board and teachers' union voted to shorten the school year, cutting five days from this year.
A team of Neon Tommy reporters visited campuses across Los Angeles to see how well the reports match what happens in classrooms on any given day.
Arlington Heights Elementary
Hyde Park Elementary
Lincoln High School
Millikan Middle School
Muir Middle School
Nimitiz Middle School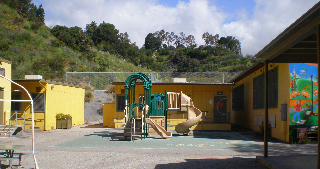 Community Magnet Charter School is tucked in the lush hills of Bel Air. Surrounded by million dollar homes and views, the elementary school is what you'd expect for Bel Air. The campus is painted in pinks, teals and murals. The library has private reading areas and a small amphitheatre stage. Their playground is four acres. The school has summer camps, gardens and school logo merchandise sold online.
But children of Bel Air residents don't attend this school.
***
Carla Cretaro sits at her desk with a stack of 2,400 applications. The school has a little more than 400 students, and every year parents vie for a spot at this popular elementary school.
There are 72 openings for kindergarten, but openings from first to fifth grade are rare.
"The only openings are when people choose not to continue, typically because they move. So next year for second grade, I don't have any openings," says Cretaro, the Magnet Coordinator who handles the school's application process.
The application process is simple for those that apply. Prospective parents simply fill out a one page form with the student's name, grade, address, contact information, gender and race. What happens next is a matter of points and luck.
Each prospective student is graded through a point system. For example, if a student's neighborhood school is overcrowded, they get four points. If it's predominately filled with minority students, four points. And every time the student applies for the magnet school, they get an additional four points.
"The first people on my waiting list have say, 12 points, but so does number 312," says Cretaro.
Those who have the highest number of points are then thrown in a lottery. The students who are chosen then get to attend the school.
"If you live in Bel Air and come from a wealthy community, you don't get any points," explains Cretaro. "We've had people move up the street and say 'I just bought a house because I want my child to go to school down the street,' and I have to tell them sorry, that's just not how it works."
The Bel Air public elementary school is just as good as Community Magnet. But most parents in the area appreciate the diversity this school has. The school requires Cretaro to keep a ratio of 40:60. Forty percent of the students are white, and 60 percent of the students are minorities.
***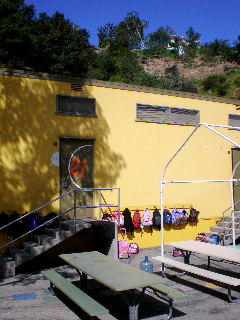 Students in Tracey Ross' first grade class are taking a test. In every class, there's a teacher's aide, and Ross and her aide sit down with each individual student and ask him or her a series of questions.
"Point to a triangle. A rhombus. A square. A trapezoid. Good," says Ross to one female student.
Ross pulls out a wind up clock and asks the time. "Just do your best," she says. The student answers and Ross pauses for a moment to write something down. Before the student leaves, Ross says, "We're going to work on telling time, missy. By the way, I love your dress."
The student skips away and joins her fellow 26 classmates.
The classroom is arranged in four tables. Six chairs circle each table so the students are facing each other and work in groups.
There are signs everywhere. The alphabet and colors and foreign languages translated to read "hello," numbers and art.
This magnet school focuses on art and the classroom shows it. Each student drew a self-portrait with his or her name written underneath. Across the top of the classroom, paper mache animals are strung to a wire.
All the teachers are on the same page. They believe in a hands-on class approach that encourages small groups and focuses on critical thinking.
Community Magnet students continue to score high on standardized testing. More than 80 percent of the students are proficient in math and English.
"We don't teach to the test," says Cretaro. "Our philosophy is, if we teach our best all the time and give them the activities and information they need, they'll be fine on the exam."
Despite high test scores and the attention each student receives, Ross says it's hard giving students what they need in a full classroom.
"We used to have 20 students per teacher. Then with the budget cuts we had 24 students," says Ross.
Last year, the district required classrooms become more condensed to eliminate one teacher. Fortunately, says Cretaro, one teacher was already set to retire so nobody got laid off.
"It's a lot harder to get to know them. It's hard because they all need your at one time. It's harder for them because they need to be independent," says Ross, who now has 27 students in her class.
Cretaro says the district is threatening to further increase class sizes, which may put Community Magnet's success and popularity at risk in the future.
To read the rest of this series, click here.
To reach Stephaine Guzman, click here.