Opinion
Bibi: It's Time To Get Your Public Relations Sh*t Together
MEMORANDUM
DATE: August 13, 2010
TO: Benjamin "Bibi" Netanyahu
FROM: Aaron Perman
SUBJECT: Time to get your Public Relations Sh*t Together
A lot has been said about the relationship between Bibi, Barack, and the "international community." Very little has been good, much of it has been bad, and the vast majority nasty. And much of it, at least within the "pro-Israel community," has been aimed at one person in particular in this relationship.
I'm going to hazard that the other one, Bibi, needs to start doing his part, as well as the Israeli government. Now is the perfect opportunity to make amends and start winning the international public relations game, which Israel has been almost trying to lose.
Recent History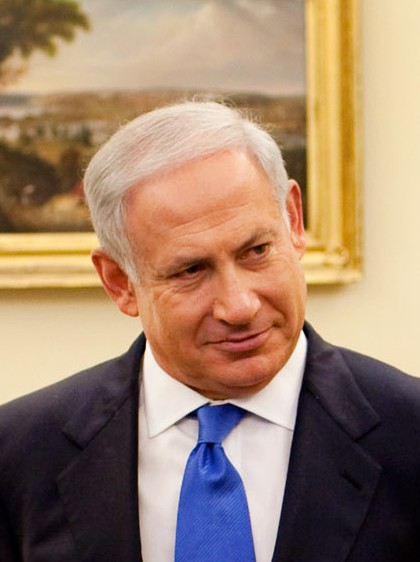 Let's say you're the Israeli Prime Minister and you pull off a landmark deal to restart proximity peace talks between Israel and the Palestinian Authority. Granted, you have a shaky, right wing coalition government that you had to drag along kicking and screaming, you had to agree to a partial settlement freeze, and the talks are merely proximity, rather than full-fledged direct, talks. But, in a part of the world where countries fight over everything, including who has the biggest plate of falafel and the right to export hummus, and where simply acknowledging the country on the other side of the table/river/tree exists (even when it's been there for 50 years and isn't going anywhere) is a big a deal, this at least deserves a Steven Colbert "Tip of the Hat."
So now, Bibi, you're about to take your victory lap. Joe Biden – who has been a strong supporter of Israel for 40+ years – is in town to praise you and re-affirm the US' commitment to Israel. Everything looks as if it could finally start going your way, and then your Interior Minister's office "procedurally" announces 1,600 new settlements, to be built far in the future, in East Jerusalem.
Your options are:
1) "Retro-actively" gain control of your government so you're not blindsided like this. I realize this is not easy, but you need to find a way to do this.
2) Immediately not only apologize profusely (which you did), but take back the statement, say it will be "re-considered," and sack your minister who said it. It is completely irrelevant to the present political situation what the consequent building actions are as long as any building is done quietly once this blows over, since East Jerusalem falls outside of the scope of the West Bank settlement freeze. However, any settlement construction in a place as volatile as East Jerusalem needs to happen quietly, as this was the gentleman's agreement you had with Obama, Biden, and Abbas and you need to stick to it. Your public image, and Israel's public image, in this situation is far more important at the present time than the reality of a few settlements outside of any freeze getting built three years away.
You do not:
Apologize yet stand by the offending statement and minister, causing the biggest rift between the US and Israeli relationship in recent history while simultaneously further eroding any public support that Mahmoud Abbas and the Palestinian Authority had left from their constituents and the Arab world. By doing so and publically embarrassing the US - your strongest ally – while the world is watching, you are leaving the US Administration with literally no choice but to respond harshly. Bibi - be lucky you got off with just harsh words and no concrete actions. I realize a different course of action would have caused you to face significant domestic political struggles, but deal with it - you're an Israeli and should realize by now that life in Israel is rarely straight forward and easy.
Going Forward
Bibi, you have an opportunity to redeem yourself. While the Gaza flotilla incident was somewhat catastrophic for all parties involved, agreeing to be a party to the United Nations investigation is a great first step. Traditionally, Israel has been cold to the UN (and that's putting it lightly). And much of the time, the UN has been far from warm to Israel, with certain members (Iran, Syria, and most of the Arab League) attempting to dominate it for their own anti-Israel interests. However, the Gaza flotilla investigation is made up of members that both Israel and the US had significant influence in choosing and is very limited in scope. This is your chance to show the world and the UN that Israel can be a partner on the international stage. It's time to check your ego at the door, get control of your government, and at least appear cooperative over the course of the investigation.
* * * * *
I support Israel. I believe that Israel, as a nation, tends to do the right thing much more than the wrong thing. But I also see that they do a crappy job of showing it. So Bibi - my message for you is simple. Assuming Israel was right in their response to the Gaza flotilla (I believe they were), instead of just trying to tell the world this, show it to the UN so that they, who many consider a credible organization (even if you do not), can show it to the world. While you are genuinely cooperating with the UN, find a way to at least gag, if not control, the elements inside your government that aren't willing to work with the international community and might seek to sabotage such cooperation because of their strong distrust of the UN and the internationally-backed two-state solution.
You have a demographic time bomb ticking and peace, if it is going to come, needs to come sooner rather than later for Israel to survive as a Jewish, democratic state. One of Israel's biggest enemies to peace is their self-portrayal to the world rather than the actions they take, especially when internal government struggles are added into the mix. If you can navigate your domestic issues – which, with your conservative background and pragmatic thinking you are in a unique position to do – while truly improving Israel's public image and international standing, you could finally get closer to bringing peace to Israel. The alternative is just passing off these problems to the next generation, with a worse demographic situation, and an even crappier hand to play because of it.
Reach Aaron Perman here.