Technology
All Hell Breaking Loose At Digg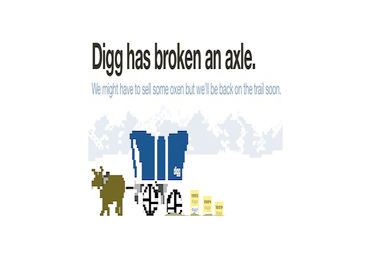 In launching its latest version, social news aggregation site Digg has pissed off many of its most loyal followers.
As a result, Digg's users are using Digg's front page against itself, voting for stories posted on Digg rival Reddit.com. At this writing, six of 16 Top Stories actually direct traffic to Reddit.
Another story, published by Web novelty site Holy Taco, declares: Digg, as we knew it, is dead. A campaign is underway to "RIPP DIGG" and abandon the site.
So why all the hate?
The redesign, known as Digg v4, has shifted power over what becomes popular from what are known as "power users" to publishers themselves. Although users still get to vote on what they think should rise to the front page, Digg's critics suspect the new site favors the work of new media powers like Mashable and Engadget.
Part of the problem is that publishers can now auto-submit content via RSS, meaning that no human being needs to be part of the Digging process. Smaller publishers and lovers of the obscure say that the auto-Dugg stories, fed by the Diggs of Joe Schmoe, are snuffing out their beloved LOLCats and FAIL Blog posts.
A look at the new Digg shows that the site is indeed getting a whole lot newsier. Apparently, Digg's power users aren't too big on hard news. They also hate the fact that they can no longer "bury" stories they don't like. Finally, they don't like the New Digg's emphasis on Followers, a concept they lifted from Twitter.
Critics will only be partially appeased, the company says.
Digg CEO Kevin Rose told TechCrunch on Monday that the company will stick with the new version, but is working to bring back some of the dropped features from v3. A former Digg engineer said Digg wouldn't be able to return to v3 if it wanted to:
"Even if they still have the systems and the desire to roll back, they don't have the talent to maintain Digg v3. Nearly everyone who built and worked on the legacy Digg codebase has left the company," said Ian Eure.
As Digg endures a painful limbo and scorned users pelt the site with Reddit links, those watching are learning a valuable lesson about listening to your community, who are also your customers.
UPDATE: Digg has hired a new CEO to replace Kevin Rose, a move that had been expected. Matt Williams, former Amazon executive, will have the tough task of steering Digg through the storm.