Nation and World
WikiLeaks' Source For Afghan War Logs Unclear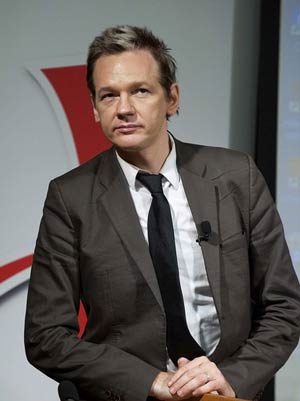 WikiLeaks founder Julian Assange refused to comment Monday to a packed room of reporters in London about who provided his website with nearly 92,000 U.S. government documents detailing the war in Afghanistan.
Relating to previous leaks, Assange has said his website does not investigate the identities of those coming forward as whistleblowers.
We'll have to wait and see if the source of this leak exhibits more intelligence than the soldier who has claimed to have provided WikiLeaks with the "Collateral Murder" video. The 39-minute-long video clip from July 2007 shows three U.S. airstrikes in Baghdad that killed two Reuters reporters, wounded two children inside a van and killed several innocent women and children inside a building.
Army intelligence analyst PFC Bradley Manning allegedly confessed in May via instant messaging to a computer hacker-turned reporter and priest that he was the one who leaked the video footage.
The reporter, Adrian Lamo, said Manning never explicitly asked for confidentiality, and Lamo felt compelled to pass on Manning's confession to the Army Criminal Investigation Command. A few days later, Manning was arrested and taken to a prison in Kuwait. His case is expected to go in front of the Army's version of a criminal grand jury before the end of the summer, and the charges against him could result in 52 years in prison.
A group has been formed to help Manning see the light of day again.
Whether or not Manning was the source of the information about the War in Afghanistan is unclear. Though he mentions in the chat that he provided WikiLeaks with 250,000 diplomatic wires, he makes no mention of the illustrative accounts of the war.
If there's a new whistleblower somewhere in the ranks of the American Armed Forces, will he or she learn a lesson from Manning's mistakes?
The Army has a stated position of making an example out of those like Manning who break rules. As the Manning case continues to unfold, the Army hopes to dissuade others from considering similar acts. At the same time, disillusioned soldiers may see it as their calling to leak information about war crimes and other transgressions overseas. For some, it could be a chance to stick it to their superiors and point out flaws in a highly-disciplined system.
At least the U.S. government can be thankful that the 76,000 documents are being released to the Western media and not to enemies abroad. The New York Times and the two other news outlets to which the documents were released put everything they had been given through extreme vetting. And WikiLeaks still has its hands on another 15,000 unreleased documents that it is making sure pose no threat to national security before putting them into the public domain. After all, the documents are better in Assange's hands than in those of Pakistan's Inter-Services Intelligence.
To reach reporter Paresh Dave, click here.