Style
A Recessionista's Look At The Top Trends Not To Miss This Fall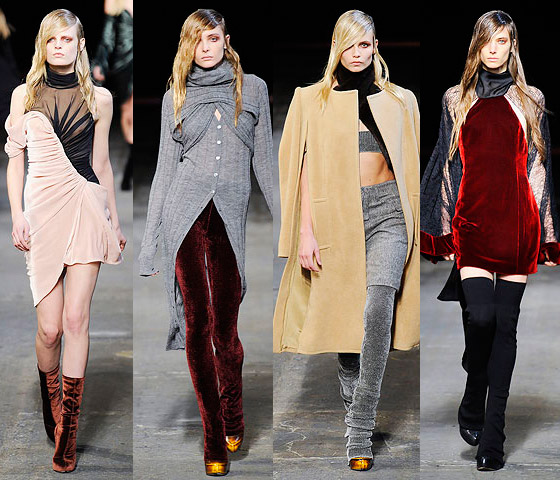 With summer trends in full bloom, I find my mind drifting to the months ahead, looking forward to the autumnal trends that will satiate any and all sartorial craving. From red leather to metallic wardrobe staples, this year's fall trends will inspire and excite any fashionista out there.
Start scavenging your favorite stores to stock up on your wardrobe repertoire even before the leaves begin to fall. From high-end splurges to practical purchases, start making room for the fall pieces that will transform your wardrobe into a chic and stylish one.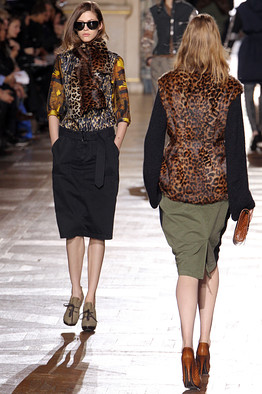 Animal Prints
: Animal prints are in full throttle this fall, from full ensembles to delicate extras. The traditional leopard print appeared on the runways of
Etro
and
Roberto Cavalli
in a myriad of styles. Because I'm not necessary keen on buying a printed cheetah jacket or leopard dress, my advice is to stick to a strategic addition of this festive print; either use it to brighten up a neutral outfit or add it as a more unconventional neutral against pops of color.
Mulberry
and
Dries Van Noten
executed this perfectly with bags and scarves to finish off their looks.
Forever 21 is a great place to stock up on your cheetah and leopard print pieces. From ballet flats to headbands and dresses to leggings, Forever 21 has everything imaginable. Topshop also makes great leopard print shorts perfect for warm autumn days and nights with a neutral tee.
Red Leather: Red Leather is making a comeback. While it may seem like a color and material combo more fit for 80's rockers, a red leather purse or pump can add a burst of color to any outfit. Celine, Givenchy and Balmain poured this trend onto their runways, embracing everything from the perfect lace up bootie to intense leather pants or the perfect lady like purse.
Steve Madden makes a great pair of affordable pumps, perfect to accentuate an all black or black and gray ensemble. If you're more interested in a wearable leather bag, try Forever 21 for some accessible options.
Metallic Dresses: While the metallic trend has been key for spring and summer with blouses and mini-skirts, the newest fall fashion is the metallic dress. Seen on the runways of Lanvin and Marc Jacobs, the metallic dress is perfect for any night out. Marc Jacobs' beautifully embellished gown was transformed from runway chic to the perfect party ensemble when Nicole Richie wore it to the Met Gala. Alice and Olivia's more practical and price-conscious fall collection is also radiating with metallic and sequin dresses that can be dressed down with a neutral strappy sandal or glammed up with a sky-high pump.
Forever 21 is certainly in line with fall's new trends, incorporating another one into their collection with a gold metallic, one-shouldered dress. If a full metallic ensemble is too much for you, try Topshop's sequin skirt with a more basic tee.
Shearling: Shearling has certainly emerged as a new favorite this fall. While leather jackets will always be a superb outerwear option for chilly fall nights, the shearling jacket is a new way to stay warm in the months to come. Burberry Prorsum updated the ever-essential aviator jacket with shearling on their fall runway, while Paul & Joe and Rag & Bone came up with their own fresh interpretations. Helmut Lang also makes its own chic version, which is in stores now. Any option you choose will be a practical wardrobe staple and an overall fashion investment.
Youareagirl has a more affordable version of a shearling jacket perfect for colder nights. Try it over anything from a printed dress to skinny jeans and a tank.
Camel Coat/Menswear: There is a cycle to everything in life, and fall trends are no exception. The camel coat repeatedly emerges as anautumnal must have. This year, find the coat in menswear tailoring, since the two combined is a fall trends masterpiece. The camel coat appeared on the runways of every top-notch designer from Chloe and Alexander Wang to Hermes and Gucci. The menswear vibe was best executed by YSL, Calvin Klein and Bottega Venetta, who all boasted clean and minimalist ensembles.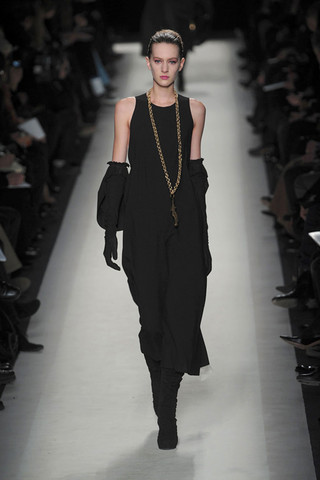 To integrate this trend into your own wardrobe, look at
Topshop's
wide array of camel-colored blazers for simple but chic options.
Velvet: Velvet is the new it material for fall 2010. Black velvet can make a simple, minimalist but nonetheless powerful statement. In jeweled toned colors, velvet can also be a little bit more eccentric and fun. Alexander Wang incorporated some velvet pieces into his fall runway show, as did Charlotte Ronson.
American Apparel is picking up on the trend by updating its classic dresses with the new favorite material of designers across the globe. Try the Stretch Velvet Scoop Back Tank Pencil Dress to incorporate the velvet trend into your own style repertoire.
Reach reporter Nicole Shoohed, here.