Style
Confessions Of A Shoe-A-Holic
"I think more men should walk in heels and run in heels and see what women have to deal with every day."- Johnny Weir
I am a shoe-a-holic. I admit it.
My craze began in middle school with every color Converse. In high school, I transitioned to delicate ballet flats and chunky gladiators. But my latest obsession de jour has been the high heel. From pumps and stilettos to wedges and platforms, the high heel has seen me through every occasion from internship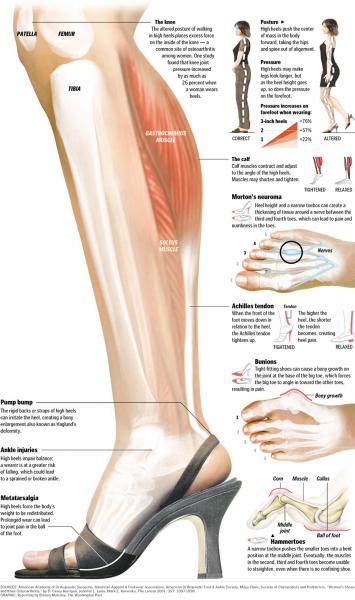 interviews to nights out with friends.
And while my closest floor is covered with every shoe be it Madden or Manolo, I've recently uncovered the gritty fact about high-heeled beauties: they may not be as good for you as they make your legs look.
A new study shows that wearing high heels on a regular basis can cause tendon and muscle changes in the your legs—causing pain and discomfort when wearing flats.
According to the study published Thursday in the Journal of Experimental Biology, wearing two-inch heels or higher five or more days a week can shrink the calf muscle fibers by an average of 13 percent. It also thickens the Achilles tendon, which attaches the calf muscle to the heel, by 22 percent.
These changes cause the foot to point down more than normal, making the shift from heels to flats very uncomfortable.
"Whenever women regularly wearing high heels stand or walk in flat shoes or barefoot, the calf muscles and tendons are placed at relatively longer length," said lead author of the study and doctoral candidate at the University of Vienna's Centre of Sport Sciences and University Sports, Robert Csapo, in a press release.
This increases the tension in the muscle, causing significant soreness.
And while style is important, it seems like one way to avoid muscle and tendon problems is to mix up the footwear from time to time.
"It's probably wise to wear different kinds of shoes. Moderation is a good idea," Dr. Carol Ewing Garber, Ph.D, an exercise physiologist and associate professor of movement sciences at Columbia University, told CNN.
Dr Charlotte Hawkins, a specialist in biomechanics and gait, says high heels can cause bunions, corns and calluses, and prolonged wear also leads to deterioration of joint function. More high-heeled hazards include knee problems, lower back pain and ankle sprains. Garber says in order to prevent pain of any sort, it's important to keep your legs and feet healthy and strong—stretching is one way to help that process.
While its important to be aware of the risks, they only drastically affect women who almost exclusively wear high-heeled shoes. Women mostly experienced pain when wearing heels for an average of 60 hours per week.
So while there are consequences to keep in mind when strapping on your favorite pair of sky-high stilettos, there is hope for the shoe-lover in all of us.
For a more detailed look at the diagram, courtesy of the Washington Post, click here.
Reach reporter Nicole Shoohed here.