Film and TV
Director Christopher Nolan's New Film "Inception" Counts On Your Curiosity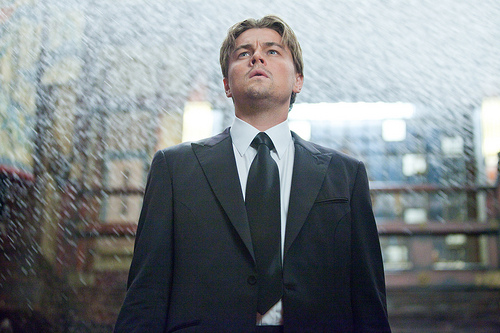 Every so often at the movies, a preview will leave me saying to myself, "Okay, I have absolutely no clue what that movie is about." We've all been there. And once in a while, I'm left wondering how it's humanly possible that I still want to see it.
In case you've somehow missed the abundant previews, this is the case with Christopher Nolan's upcoming film, "Inception" (Warner Brothers). And he must know this, because the secrecy surrounding this film seems very thought-out and very, very serious.
Based on some recently published reviews, audiences can expect a mind-warping visual romp into the corners of our subconscious, which will apparently fit into some semblance of the familiar action-film structure. If these reviews hold true, Nolan may be on the road to achieving the end-all-be-all of a director's status—the blockbuster-directing household name who can still pull off insanely creative films. Steven Spielberg mixed with Michel Gondry, if you will. Or Francis Ford Coppola in all of his glory.
The secrecy, of course, extends to the actors in "Inception" as well. In this month's issue of Vogue, cover girl Marion Cotillard rejected all questions regarding the film. The most that was said about it came from Nolan himself: "The most magical thing about who Marion plays is just to sit there and watch the mystery of the character unfold."
That seems to be the case with the movie's entire ad campaign. We are intended to buy tickets out of faith (assuming all subsequent reviews won't be able to divulge much more than current ones) and "watch the (utter) mystery unfold." This is somewhat the road less traveled en route to a big opening weekend, but it may end up being quite effective.
In what has so far been a bit of a dismal summer cinematically (excluding the fabulous "Toy Story" sequel), maybe it's this dose of the complete unknown that will entice us enough to shell out our hard-earned summer bucks. And at least we know that we can count on being wowed visually—that much is divulged from the previews. Maybe what "Avatar" was to winter, "Inception" will be to summer. Except with more legitimate writing. (Here's hoping.)
While this whole "withholding dance" type of advertising may turn some people off, we have to ask ourselves if we really have any reason at this point to doubt Christopher Nolan. Is there anyone out there who actually disliked "The Dark Knight?" "Batman Begins?" "Insomnia" and "The Prestige" aren't too terrible, either.
These films, surprisingly, come from a man whose first film ("Forgotten") was done on a tiny budget and soon became extremely popular at festivals. He seems to know what the people want. And maybe he can do it again with "Inception," except reaching further this time—maybe he knows what our subconscious wants, too. I'm more than willing to give him the shot. Come Friday, we'll find out if America agrees.
To reach Kelly Baron, click here