Pop Culture
Are You Team Jake Or Team Vienna?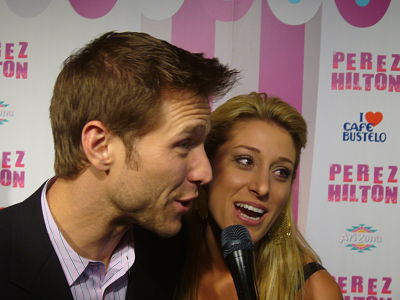 As several "Bachelorette" viewers question some of the casting cuts Ali has made on her path to find love, others are still processing what happened last week, and who to root for.
Many hardcore fans of "The Bachelorette" tuned in last Monday to watch the showdown between the latest "Bachelor" couple to call it quits—Jake Pavelka and Vienna Girardi.
The split didn't come as a surprise to most, as message boards and entertainment blogs exploded with comments on the couple. Tabloid headlines stating "Vienna Cheated!" or "Jake wasn't intimate with me!" were all over the internet.
The couple sat down with host Chris Harrison on the show to discuss the demise of their relationship. After the exchange of the two - which left Vienna in tears - most "Bachelor" fans showed their support for either "Team Jake" or "Team Vienna."
In my opinion, Vienna was the one who was being truthful and who I fully support. Here's some background and insider information. It's no shock that Vienna has never been a fan favorite. Throughout the last season of the Bachelor, she didn't get along with any of the girls and came across immature.
At the age of 24, she was one of the youngest women vying for Jake's heart. When Jake proposed to Vienna at the end of the season, people were shocked that he chose her - the party girl from Florida - over Tenley, the sweet girl next door.
Jake vehemently stood up for Vienna and said that he would choose her all over again. They seemed very in love and did plenty of press appearances, and Jake even performed on "Dancing With the Stars." So what went wrong?
I met both Jake and Vienna in late March at a birthday party. The two walked the red carpet, posed for photos and seemed very happy and in love. I caught up with them inside the party, but Jake didn't seem very interested in talking to me. Vienna was the one who was gushing about their future wedding (which was supposed to be next summer). She was beaming with happiness when she mentioned their plans to move to Dallas.
Vienna seemed as if she was truly in love with Jake, was looking forward to their plans and honestly believed she was marrying the love of her life. Jake just stood there, and didn't even give his full smile for a photo we took (unlike the red carpet photos he took, where he was grinning from ear-to-ear.)
I can't help but believe Vienna when she says that she felt that Jake didn't treat her well, and that was in it for the fame. I don't completely hate Jake, nor think that he should be shunned. There are many reasons why relationships don't always work out, and I rarely believe that only one person is to blame. But the way that he treated Vienna that night, the way he accused her of cheating with no proof, and the way the couple interacted with me at the birthday party makes me sympathize with Vienna.
To reach Catherine Donahoe, click here