Los Angeles and Region
Los Angeles Traffic Woes: How It All Began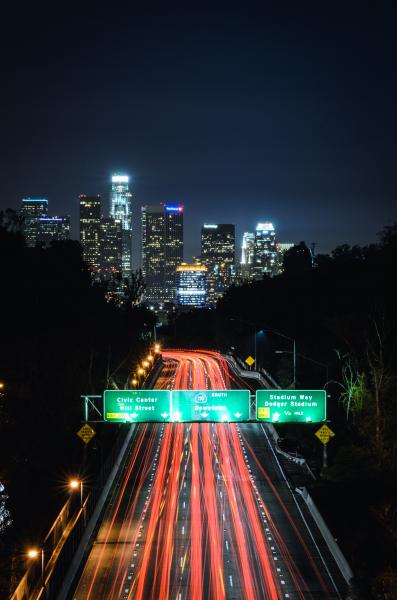 It's no secret that Los Angeles is notorious for having some of the worst traffic in the United States. There have been SNL videos about, Buzzfeed posts and a slew of other media poking fun at Angelenos and their terribly congested highways. In 2012, Los Angeles drivers spent an average of 59 hours sitting in traffic. So how did it get this bad?
In 1956, President Eisenhower signed the Federal Highway Act to create a national highway system. This became the Interstate system, and highways like the 405, 110 and 10 were built under this act. During this era, America was also entering a major post World War II economic boom and the idea of suburbia became part of the "American Dream."
Everyone was encouraged to have a personal car and garage. Back then, a car was a symbol of freedom since "you could go anywhere, anytime," notes Fred Chang of the University of Southern California's Price School of Public Policy, where he is studying Policy, Planning and Development.
As a result of extensive highway building and car sales, "everything in Los Angeles was designed, not for humans, but for cars," says Chang.
Most roads are extremely wide, making it difficult, and at times frightening, for pedestrians to cross streets. Many attractions in the region, such as Disneyland, Santa Monica Beach, Downtown and Universal Studios are also spread miles and miles apart. Reaching these destinations is difficult without personal transportation.
Even with a public transportation system as extensive as Los Angeles', there are still some areas that are inaccessible without a car, like the Griffith Observatory and Getty Villa. These factors discourage many Angelenos from taking on public transit.
Despite these flaws, Chang, along with James White, a junior studying Political Science and Policy Planning and Development, concede that Los Angeles Public Transportation does get you where you need to go even though it may take while.
In terms of solutions, there is a common misconception that building more highways or widening existing roads will reduce congestion. However, if more lanes are added, more people will take to the road and fill up the additional space. Chang equates it to supply and demand: an increase in supply will decrease the "price" or time cost of driving and encourage more people to drive. In the end, the overall net effect will be a return to the "equilibrium point" of heavy congestion. For example, Shanghai has constructed a series of twelve-lane highways in hopes of alleviating traffic as the city expands; however, it has faced the same terrible traffic conditions as Los Angeles despite these massive highways.
Ultimately, Chang, White and global policy think tanks like RAND Corporation, believe that congestion pricing is the right solution to alleviate Los Angeles bottlenecks. Congestion pricing has seen great success in London, reducing traffic up to 30% in high traffic areas, such as Downtown. By charging drivers a fee to enter a heavily congested area, commuters are discouraged from driving and encouraged to take public transit, carpool or find other ways of transportation. Los Angeles already has some forms of congestion pricing, such as express lanes and toll roads. Expanding these could just be the solution that Los Angeles needs.
Implementing any change would be difficult though, according to White. In the meantime, he suggests looking at emerging forms of transportation, such as Uber and Lyft.
Reach Staff Reporter/Photographer Benjamin Dunn here.