Technology
The Best Car I've Driven In 2015 Is Also The Ugliest: 2016 Scion iA, Reviewed
If there was an "Ugliest Front End On A 2016 Model Year Award", the Scion iA would win it without a doubt. The front end looks like it received a facial graft from a gigantic catfish that's been dead for a good two weeks, then given a botox job to make it look like a gigantic Ford Fiesta grille. As you turn your attention away from the front, you may notice that everything else on the car – wheels, body, and interior – may look suspiciously similar to you. That's because the iA is the new Mazda2 with a (revolting) new fascia and the Mazda badges thrown out and Scion ones put in place. So what the iA actually is, is a car made by a Japanese company in Mexico for a spin-off company for another Japanese company to be sold in the United States. Try to wrap your head around that one.
SEE ALSO: Scion C-HR Concept First Look
Just for one minute, put the car's confusing history and hideous front end to one side, because this car is the best car I've driven in 2015. Sorry, Scion FR-S.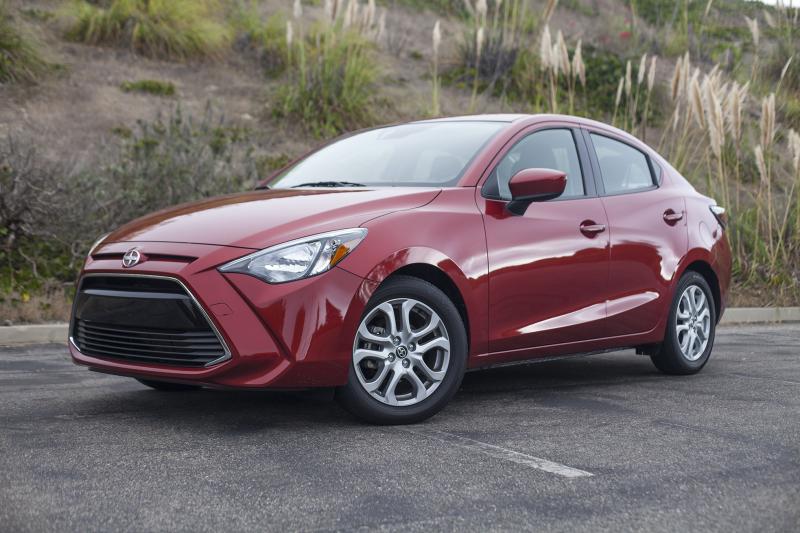 DISCLAIMER: Scion provided me with a pre-production/prototype version of the iA, so this review may not entirely reflect the qualities of the final production version.
Since this car is critically a Mazda and they've been really busy busting out the moves with their new "Driving Matters" slogan and SKYACTIV technology, the car is an absolute joy to drive. It's a complete standout to the lackluster and emotionless cars which populate a large chunk of the market right now. As a result, I went in to the iA expecting it to be very fun and easy to drive, practical and fuel efficient and a steal for the price. Once I got inside the car and actually drove it, I discovered that the ugly front end doesn't even matter. Within the first five minutes of driving the car, I was completely taken in.
The engine is a 1.5L four producing 106 horsepower @ 6,000 RPM and 103 lb-ft at 4,000 RPM, making it the least powerful car I've ever driven in my life. Though tiny, the engine doesn't have a problem bringing the 2,385 lb iA up to speed and happily buzzes up the redline. You won't be overtaken by cyclists anytime soon, but it is much less powerful than engines offered by competitors over at Honda, Ford and Chevrolet. As a result it faces the same problem as the iM – it's down on power compared to the competition.
On my test car the engine was mated to 6-speed manual which allows you to fly through gears with unparalleled precision. Each gear change is pure ecstasy when operating a gearshift this good; it's leagues better than the click-clack shifter in the last generation Miata and even better than the shifter in the FR-S. The clutch has a very short travel and is nearly idiot-proof; you have to actually try to stall this thing on purpose to do it. The short actuation and the forgiving bite point makes the car incredibly easy to drive, even in traffic situations where you want to smash your head through the windshield.
Scion didn't really bothered to change anything on the Mazda2 when they changed it. There are Mazda stickers and labels plastered throughout the engine bay, and the infotainment system's user interface is the same. If you have horror stories to tell about Scion's BeSpoke audio system, which they've made even worse for 2016, you'll be glad to use the Mazda's infotainment system. Like the iM, Scion has been really talking about the premium features on the iA, the most notable one being a low-speed collision warning system. 16-inch alloy wheels, dual USB ports, bluetooth, backup camera and a 7-inch touch screen display are all standard. For such a inexpensive car, the iA is surprisingly quiet as well.
The gauge's cluster like other Mazdas is inspired by motorcycles and features a large analog speedometer in the center with a digital tach on the left. The tach is quite hard to see during the day and in direct sunlight you can't see it at all. Your best bet is just to change gears based on feel and noise which is what I did. When you can see the tach, you'll see that it shows you what gear you're in, and when and to what gear you should change up or down to. Although this can come in handy, it doesn't take into account hills, so don't listen to this and upshift early when you're climbing up a hill. I would have really preferred to have a center mounted analog tach for this situation. There's no coolant temperature gauge, with a coolant hot/cold warning light instead. Unlike the iM, the traction control can be swiftly turned off with a tap, rather than holding it down for 50 years while stopped, unlike other Toyotas. It also doesn't constantly remind you that the system is disabled unlike the iM, leaving the orange TCS off light to do its job.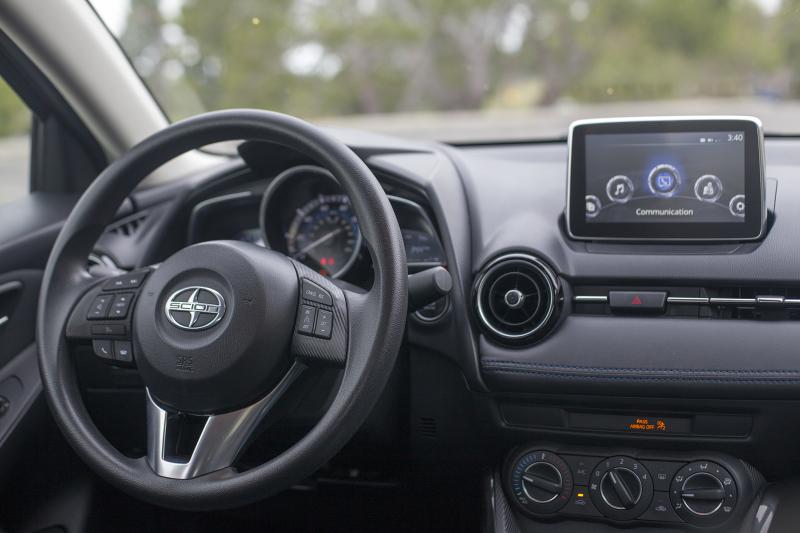 To keep the cost of the car low, many things have been omitted from the car that would otherwise be there. The most frustrating feature that they decided to omit is the trunk-mounted release button. Since there is no trunk release button on the trunk itself, you have to use the key fob or press a button near the hood latch inside the car. There's a black piece of plastic where the button should be, so it frustrates me to no end that a feature like this has been omitted. There's no center armrest either, so you might accidentally try to put your arm on nothing. Much like the iM, some small features you would expect to be there really aren't there because they've been omitted in place of other things.
The infotainment system doesn't use the god-awful Scion BeSpoke unit and instead uses Mazda's own system. If you've ever read one of my previous reviews regarding Scions, you'll know I have never been a fan of the BeSpoke system and the migraine it brings. The 7-inch touchscreen looks like a cheap Android tablet stuck onto the dashboard but it does the job very well. If you're not a fan of the touchscreen, you can use a rotary knob which is suspiciously similar to BMW's iDrive system. You can rotate the knob or move it in four directions to make a selection and use buttons located at the top and bottom of the knob for making quick selections.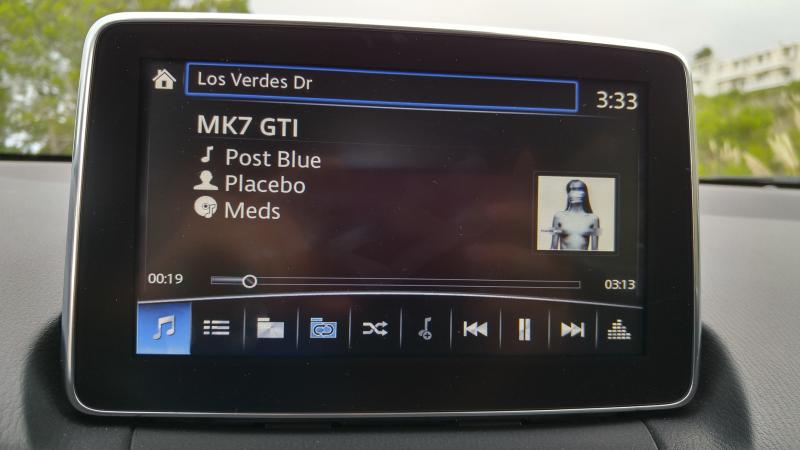 The USB audio feature, like in the iM, doesn't work very well. Sometimes it would play the songs from my iPod no problem, other times it would just sit there and tell you "loading" until you ejected the iPod. Speaking of ejected iPods, if you so much breathe in the USB connector's direction it ejects your USB device. The voice command sometimes will refuse to work if the phone is still in your pocket, announcing that the system is still "learning names and pronunciations" even if your phone has been connected to the bluetooth system for two hours. Like all car infotainment systems I've used, it has some annoying software issues.
Critically speaking, for Scion to sell this car to someone such as myself, the "premium features" are added bonuses to a car which is dynamically close to being perfect. As you drive the car you can really tell that the engineers put a lot of effort into refining the vital components, rather than making something that was "good enough" and then going home. That's what makes the iA such good value – you get a car that's well engineered as a base, with lots of helpful features at a reasonable price.
What we can draw from this is that Scion has released two completely different cars. The iM is a practical, compact hatch that looks good but has the driving dynamics of a house brick; the iA is as brilliant to drive as it is hideous to look at. If these two cars cars could combine to form a hatchback that looked as good as it drove, it would be absolutely brilliant. That car already exists, and it's called the Mazda3 5-door.
Subcompact Cars Score: A+*
At-a-Glance Specifications:
Price As Tested: $17,161
Engine: 1.5L DOHC direct injected 16-valve 4-cylinder
Horsepower: 106 @ 6,000 RPM
Torque: 103 lb-ft @ 4,000 RPM
Transmission: 6-speed manual (tested) or 6-speed automatic
Drive: FWD
Tire Size: 185/60R16
Tire: TOYO Proxes A27
Towing Capacity: N/A
Cargo Volume: N/A
Maximum Payload: N/A
Curb Weight: 2,385 lbs (Manual Trans.)
Weight Distribution F/R: N/A
Turning Circle: 32.2 ft.
Our Combined MPG: 34.5
Fuel Capacity: 11.6 gal.
MPG (EPA Estimated) (City/Highway): 31/41/35 (Manual Transmission)
*This is the benchmark vehicle for this class.
Reach Staff Reporter Amou (Joe) Seto here. Follow him on Twitter here.