Sports
U.S. Comeback Thwarted By Ref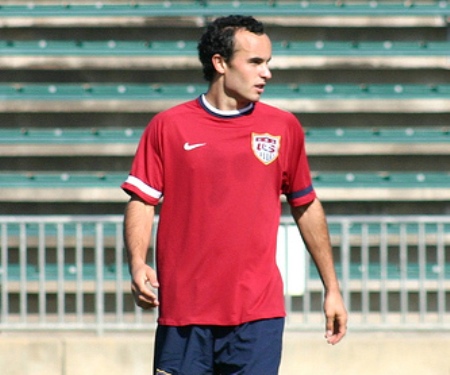 Landon Donovan scored a brilliant second half goal Friday.
(Creative Commons)
Remember those old commercials: Sure? Unsure? Well, Mali referee Koman Coulibaly had a decidedly unsure moment in the 85th minute of the United States-Slovenia game on Friday and it cost Team USA a win.
With the score tied 2-2, Coulibaly called a phantom foul on the U.S. just as substitute Maurice Edu hammered home a perfect free kick delivery from Landon Donovan that would have given the Americans a one goal lead.
The U.S. players vehemently protested the call, begging Coulibaly to come to his senses -- or at least explain himself -- but he did not and the game ended in a 2-2 draw.
It was a terrible turn of fortune for the U.S.
Down 2-0 at halftime, they had overcome a seemingly insurmountable challenge thanks to spectacular goals by Donovan (in the 48th minute) and Michael Bradley (in the 82nd minute), and were knocking on the door of an unbelievable comeback. Coulibaly's flub put an end to that though. And after multiple analyses, nobody can seem to figure out why.
One theory is that the U.S. had a player offsides. But replays of the free kick show that, upon contact, every player in blue is behind the ball.
The second theory -- that the U.S. committed a foul on the play -- is easily refuted as well. If anything the Slovenian players were the ones fouling. One defender had Bradley in a straight jacket -- seriously, look at him, he's got both arms wrapped fully around -- and another was trying to put a similar hold on Jozy Altidore. Meanwhile, Edu broke free without so much as a brush. He played the pass perfectly and, more importantly, legally.
The third theory? There is no third theory because there was no wrongdoing. You can look at the play from any angle -- and ESPN has. It was a terrible call. I encourage any Slovenian to make a case otherwise.
Again I stress that Coulibaly, whose name will go down in infamy from sea to shining sea, has not made it clear what the call was and refuses to do so with the support of FIFA. This is absolutely ridiculous and should not be stood for. Even the NBA -- a league that many accuse of being fixed -- clarifies its controversial calls.
FIFA should not allow Coulibaly to exist in a position above the game. At the least, they should require him to explain himself. At the most, disallow him from refereeing any more games in this World Cup.
That's the last word I'll say on the subject for now, but if the U.S. is eliminated as a result of this preposterous judgment, believe me there will be plenty more venom.
Speaking of venom, a good amount of it should be directed at the U.S. players for how they performed in the first half Friday.
I haven't seen a U.S. display that poor since the 2006 World Cup (specifically the opening game against Czech Republic).
The Americans looked lost, anxious and tentative. There was no coordination in their attack; it was like watching a bunch of high schoolers play together for the first time. They surrendered the ball casually in the midfield and bungled things so badly in defense that all Slovenia had to do was walk into the goal (which they did, twice).
Injured or not, Oguchi Onyewu deserves much of the criticism for the defensive snafus.
Gooch failed to challenge the shooter, Valter Birsa, on the first goal and didn't coordinate his defense properly on the second one (the U.S. tried unsuccessfully to trap Zlatan Ljubijankic offsides, leading to an easy goal on the ensuing through ball). As good as he looked during the first game against England, Onyewu was just as suspect during the second game. If Team USA hopes to advance, they will need a much better performance from him on Wednesday against Algeria.
Tim Howard was another player I was surprisingly disappointed by in this game.
Howard had arguably the best performance by a goalkeeper in the tournament in Team USA's draw with England last week, but against Slovenia he was passable, just another man in the net. He was caught off of his line on the first goal (a lofted shot by Birsa), which frustrated me to no end because that's a mistake he used to make all the time but seemed to have corrected as of late.
A good friend of mine said keepers are supposed to advance on plays like that to close the angle, but I disagree. It wasn't a breakaway opportunity. Gooch was between Birsa and the ball, in which case Howard should have protected against the outside shot. He misplayed the situation and it cost the U.S. a goal.
On the second goal, I don't blame Howard. The defense botched an offsides trap and Ljubijankic had an easy path to goal. Still, the Howard from the England game (Super Howard) would have saved that shot. Again, I'm not placing blame. I'm just saying I think the rib injury factored in on that one.
Gooch and Howard were underwhelming, but Bob Bradley should not escape blameless.
In the previous game, Bradley made appropriate, in-game adjustments to correct early errors in judgment (i.e. giving the midfielders too much leeway). This time, his lineup errors were too egregious to correct without substituting -- and Team USA paid the price.
Starting Jose Torres at center midfield was Bradley's biggest error.
As a facilitator, Torres is great. He's creative and intelligent, and he puts good touch on his passes. But as a holding midfielder (a midfielder who primarily plays defense and puts the ball up to the offense) he's downright bad. He's small and (let's face it) weak, and he doesn't time tackles properly. And for some reason he played primarily as a holding midfielder during the first half.
I don't know whether Bradley drew it up that way, or whether Torres took it upon himself to play that role, but the end result was catastrophic: Torres committed multiple fouls in the U.S.' half of the field and failed to set up chances for his teammates on the offensive end.
Torres was taken off at halftime and replaced with Edu, who managed the position better (not well, just better). The problem was solved, but it was too late. The U.S. was down 2-0.
Unfortunately, I think the situation shook Torres' confidence, which is too bad because he's very talented and plays well in the right situation. I hope he gets a chance to redeem himself in a substitute role next game.
Starting Torres where he did was Bradly's most egregious error, but I also question his use of Robbie Findley.
Findley is a speedster (and boy can he run after the ball), but he's not much of a finisher and he doesn't win the ball in the air well. In the game against England, he was used primarily to stretch the defense and make crosses (a role he played well). But the U.S.' gameplan against Slovenia was to go long, win 50-50 balls and create chances for Altidore. In other words, the opposite of what Findley does well.
Again, I won't say that this style of play was Bradley's intention (it appeared to be a function of necessity more than planning), but he should have studied Slovenia's defense more intently and realized that Edson Buddle (a taller, more polished finisher) was a better play in this situation.
Hopefully Bradley recognizes this as a learning situation and makes better adjustments against Algeria, which I'm sure he will because he's a good coach (not to mention a master motivator).
After the initial stretch of bad play, the U.S. picked it up (as is their custom when they're behind) and offered fans a glimpse of how good American soccer can be.
Their passing in the second half was brilliant, and their finishing was top notch. I can't imagine two more compelling goals than the ones Donovan and Bradley scored en route to the comeback -- they were world class plays, nothing like Clint Dempsey's fluky goal against England (no disrespect to Dempsey, who has had plenty of world class finishes in his time).
As a competitor and a talent, Donovan showed Friday that he belongs on the world stage.
He has a nose for goal and he isn't afraid to put the team on his back. The fact that he had the nerve to take on Samir Handovic from such a tough angle (and the skill to convert the shot) is a testament to his will to win. I expect big things from him on Wednesday.
Speaking of which, Team USA isn't in such a bad position heading into its third game of the group stage. The Americans control their own destiny. A win puts them automatically into the next round, a prospect that hardly seemed likely when they were in a 2-0 hole against Slovenia.
Algeria isn't a team to be taken lightly (after all, they tied England Friday), but they do make a lot of mistakes in the midfield -- mistakes that I think Michael Bradley and Ricardo Clark can capitalize on -- and they don't have the greatest finishing ability (zero goals in two games).
Yes, Algeria is physical. And yes, they're hungry. But the U.S. should be hungry too, and they have the best player on the field: Donovan. The opportunity is ripe for the picking.
A tie puts Team USA into a maze of what ifs concerning England and Slovenia. But I don't think they'll tie. I think they'll win.
Unless the referee has it out for them, of course...