Sports
With Perkins Out, Lakers Have Upper Hand In NBA Finals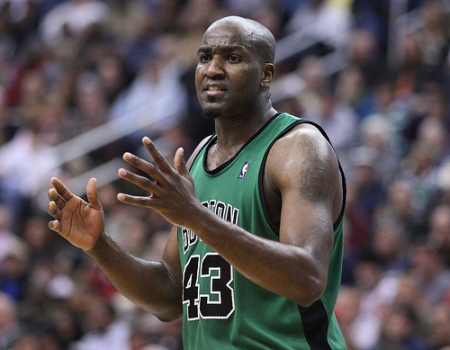 Getting Kendrick Perkins back is crucial to the Celtics' success.
(Creative Commons)
With all of the injuries in recent seasons to Kevin Garnett and Paul Pierce, Kendrick Perkins was arguably the least likely Celtics starter to get hurt in the NBA Finals. Yet there he was on Tuesday night, laying on the court, grimacing, his right knee buckled -- a tough, hulk of a man who just couldn't get up.
Perkins suffered what turned out to be a knee sprain after being knocked to the floor by Kobe Bryant with just over five minutes left in the first quarter of Game 6. He immediately pointed to his knee and was carried to the locker room, where he received x-rays.
He never returned to the court.
Without him, the Celtics were powerless to stop L.A. The Lakers ratcheted up the defensive pressure (holding Boston to series-worst 33 percent field goal percentage) and hit the boards hard on their way to a decisive 89-67 victory.
The team that controls the rebounding margin has won every game in this series and Game 6 was no exception. The Lakers' big men dominated the Celtics on the glass, winning the battle of the boards 52-to-39, including 12 offensive rebounds (five of them from Pau Gasol).
Gasol and Lamar Odom had their way with the Boston front line (combining for 25 points and 23 rebounds), Ron Artest finally broke out of his slump (scoring 15 points and hitting three 3-pointers) and of course Kobe did work (finishing with 26 points, 11 rebounds and four steals).
It wasn't the highest scoring affair (neither team shot over 42 percent from the field), but it was a convincing win nonetheless. The Lakers maintained a 17-plus-point lead throughout the entire second half -- about as dominating a performance as you get in the Finals -- and held the Celtics in check with a relentless swarm of defenders.
You could see the energy coming back to a squad that looked almost listless in Games 4 and 5.
Suddenly, the Staples Center glitterati were breathing easily again. Jack, Leo and Anthony Kiedis were all enjoying themselves. The Lakers had their swagger back.
And if Perkins stays out of Game 7 -- as I expect he will -- the Lakers will continue to roll.
Garnett, Pierce, Rajon Rondo and Ray Allen are a talented bunch, but without Perk holding down the middle they're extremely vulnerable. Without him, Gasol is free to operate without punishment and the Lakers don't have to play Bynum as much, which is crucial because Bynum himself is in a lot of pain due to injury.
The Celtics have more depth in the front court than they did last season (isn't this why they signed Rasheed Wallace?), but none of those players offer the quality of defense and rebounding that Perkins can supply.
We saw tonight how unreliable 'Sheed is when he's taken out of his comfort zone (he finished with zero points, three rebounds and four fouls in 17 minutes of play), and Glen Davis and Shelden Williams are too short to contend for boards with Gasol and Andrew Bynum. That leaves KG to do the majority of the interior work on his own, and with his knees we know that isn't happening.
The Celtics are in a bind.
A hot shooting night on par with their performance in Game 5 will be their only saving grace at this point. Pierce, Allen and Rondo all need to emerge with superhero capes laced up tight. Otherwise Boston is as good as dead.
I'm not saying it can't happen -- crazier things have happened in the playoffs -- but it's a long shot with Perkins on the bench.
It's too bad a series as closely contested as this one will likely be determined by injury.