Sports
5 "Sure Things" In The 2010 NBA Draft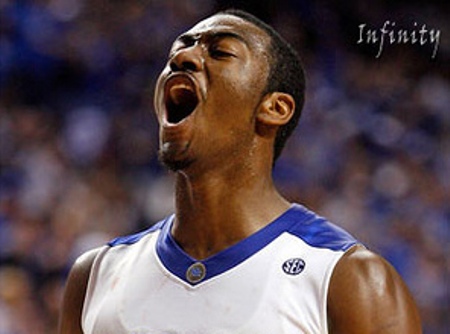 John Wall is the surefire No. 1 pick in the 2010 NBA Draft.
(Creative Commons)
The NBA draft is rapidly approaching and, as usual, there is a wide range of players available. The 2010 draft class has a handful of guaranteed stars (John Wall and Evan Turner quickly come to mind), but for the most part it is littered with players of unknown quality (Derrick Favors anyone?).
This is easily the most up-in-the-air draft since 2008 (I know, so long ago), so I've compiled a quick list of "sure things," players who are known commodities.
Just to clarify, when I say "sure things," I don't mean "sure things to be good." I mean, to steal a phrase from the infamous Denny Green, players who are what we think they are. Non-gambles. So when Gordon Hayward is the second player off the bench for the Bucks next season, don't yell at me that I said he was going to be good. I didn't. I just said he was a known commodity.
On to the list...
John Wall - Wall is the best player to enter the NBA since Kevin Durant in 2007 and the best point guard prospect since Derrick Rose (who went No. 1 overall to the Bulls in 2008). At 6-foot-4 Wall has ideal size for a point guard. He'll have no trouble guarding opposing point guards (and even some shooting guards) or seeing over defenders at the next level. His athleticism is tremendous and he's a terrific finisher around the basket, making him an even better fast break player than Rose (which is saying something). On top of that, he's a point guard in the purest sense of the word. His court vision makes coaches drool like the St. Bernard in Beethoven (I know, before your time...). He's a special talent.
What I like best about Wall, other than his obvious athletic advantage, is his leadership ability. He isn't afraid to take a team on his back, as we witnessed last season at Kentucky when he willed the young Wildcats to the Elite Eight as a freshman. He's competitive in the mold of the greats (Jordan, Bird, Kobe), and he hates to lose (a product of his having a life-long chip on his shoulder). Those qualities will pay dividends at the next level, particularly when Wall eventually meets players like LeBron James and Derrick Rose in the playoffs.
There are two obvious flaws to Wall's game: his jump shot (bad mechanics) and his ability to run a half-court offense (to be expected). Both of these qualities tend to improve with age and coaching. Wall is just 19 years old. By the time he's 22, I expect him to be an All-Star candidate and a force to be reckoned with in the postseason. The Wizards are fortunate to nab such a talented player.
Evan Turner - The 76ers are trying to play it cool, saying they're open to other options at the No. 2 pick than Turner, a 21-year-old phenom out of Ohio State. Yeah right, Ed Stefanski. Don't play around with us. You're taking Turner and we all know it -- you even put it on your website already by accident. Silly goose.
Realistically, Philly would be crazy to pass on Turner. He's a proven, valuable player who fits their team perfectly. Slot him in the starting lineup beside Jrue Holiday and Andre Iguodala and you have a 1-2-3 combo that could be the NBA's best by 2012. (Okay, probably more like 2013, but you get the idea.) That trio is going to be hard to handle any way you look at it. Defensively, they're all great athletes. They can all pass the ball and handle it capably. And Turner and Iguodala are good shooters who aren't afraid to take the final shot. Throw in a good big man (Spencer Hawes is a talented, but inconsistent player, we'll see...) and you've got a terrific team. I'm expecting big things from them.
What I like most about Turner is his versatility. A Brandon Roy clone, he can guard three positions, handle the ball, shoot lights out from anywhere on the court and get to the free throw line with frequency. Injuries are a concern with him (and we all know what that can do to a player's future prospects), but he's worth the risk. He's the most polished, NBA-ready player in the draft, and he's going to help the Sixers immensely next season.
Wes Johnson - Johnson is a 6-foot-7 matchup nightmare waiting to happen. He has the perfect size and athleticism to succeed at the small forward position at the NBA level. He's pretty slight of build (the guy weighs just 198 pounds), but if NBA players have proved one thing over the years it's that they can put on muscle with the best of them. He shouldn't have a problem bulking up.
At Syracuse, Johnson proved he could be a defensive stopper as well as a go-to scorer, a rare combination at any level. He averaged 16.5 points, 8.5 rebounds, 2.2 assists and 1.8 blocks per game last season on a stacked Orange team. Granted, he was a 22-year-old junior, but those are still good numbers, especially when you take into consideration his shooting percentages (50 percent field goal, 42 percent 3-point, 77 percent free throw). He has an impressive resume, to say the least, and on top of that he's a good dude. If you believe this Draft Express piece, which I do (full disclosure: I edited it), Johnson's a humble guy who works hard and doesn't take his talent for granted. Sound like anyone else you know?
There's talk that the Nets could take Johnson as high as No. 3. That seems uncertain, given New Jersey's recent fascination with Derrick Favors, but Johnson surely won't slip below the fourth pick (the Timberwolves are quite enamored of him).
Xavier Henry - Henry is slated to be taken anywhere from 11th to 18th in the draft (yes, there's a reason I skipped straight from the No. 3 pick to No. 11, there are a ton of projects in the middle portion of the lottery), but he's one of the most easily-defined prospects. A 6-foot-6, 210-pound freshman, he's a tremendous shooter (42 percent from beyond the arc at Kansas last season), a competent ball handler and a solid defender. He won't light the world on fire with his athleticism, but put the ball in his hands and he's going to get the job done.
Henry's skills are well-developed, but what makes him a sure thing for me is his love of the game. A lot of players are confident in their game and like playing, but few light up the way Henry does when he talks about playing ball. That kind of attitude can be infectious in the locker room. I hope he carries that passion into his NBA career.
It's tempting to question Henry's mental toughness after Kansas lost their second round game to Northern Iowa in the NCAA Tournament this year, but the loss was hardly Henry's fault. He didn't live up to his potential in that game (he scored just 8 points in 32 minutes), but he didn't exactly choke either. He shot 50 percent from the field (including 2-for-4 from beyond the arc), grabbed 8 rebounds and turned the ball over just once. It's unfair to label him as anything right now (he's just 19 years old), and I doubt NBA teams will hold that game against him.
If I had to pick an ideal landing spot for Henry, it would be Milwaukee: a low key city in desperate need of an outside shooter -- Michael Redd's injuries make him an unreliable option in that regard in spite of his talent. New Orleans would be a good spot too, though. I could see him in the back court next to Chris Paul.

Gordon Hayward - The star of Butler's improbable run to the NCAA Championship, Hayward is a solid all-around player who will be an absolute asset off the bench for an NBA team for years to come. Blessed with good size (6-foot-8), quickness and court sense, he is the rare player who can be trusted with the ball in just about any situation.
Some fans questioned Hayward's decision to leave early, seeing his slight build and bright future with Butler as signs that he was leaving too early. Not so. Hayward is as polished as they come at 20 years old. He's a natural scorer who can get points in a number of different ways (inside, from midrange, from beyond the arc and at the free throw line), handle the ball competently in any situation and rebound. He's a good shooter whose percentages fell somewhat as he took on the top dog role at Butler last season (he made just 29 percent of his threes). When he returns to being a complementary player at the NBA level, you'll see that percentage return to the 32 to 35 range.
Hayward's defense is a concern, but, like I said, he's a player who you know exactly what you're getting when you draft him. He has the potential to be one of the league's best sixth men three or four years down the road. I see him going in the middle of the first round (late teens most likely) to a competitive team such as the Bulls, who need a player off the bench to complement Kirk Hinrich.