Sports
Catching World Cup Fever In South Africa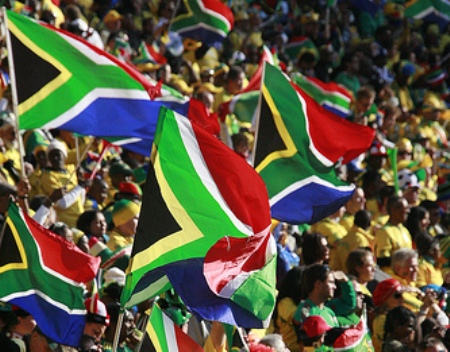 Fans have been going nuts in South Africa.
(Creative Commons)
Being in South Africa for the World Cup has served as a reminder for why I fell in love with sports. Seeing fans cloaked in their nation's flags, sporting elaborate patriotic face paint and donning wigs with their country's colors is truly a sight to behold.
I have run into my fair share of anti-sports skeptics who fail to see the appeal of organized athletic competition. And, while I respect the fact that some people just aren't into sports, it is hard to argue with what we are witnessing in South Africa this June and July.
Sports have the power to unite, to inspire and to provide hope. When the New York Yankees played their first game after September 11, 2001, a nation bonded. When Joe Louis boxed Max Schmeling, political and social discourse was brought into a public arena. Now we are witnessing a continent rejoicing as the world's grandest sporting event is played on African soil for the first time.
Every day when I walk out into the streets car horns honk with excitement, people trumpet in the streets with vuvuzelas and chants from across the globe ring throughout the city. And this phenomenon is not restricted to the borders of Africa.
"What is that instrument being played by everybody over there?" asked my mother during a Skype chat from halfway across the world.
"It's a vuvuzela," I replied.
"A what?" she questioned.
"A vu-vu-ze-la," I repeated in a slower voice.
"Oh, yeah! They are starting to become popular over here too," she said with a laugh.
There are those who point a critical finger at the culture of athlete worship, the big contracts and the even bigger egos, as the reason why sports should not be put on a pedestal in our society. But those issues are all peripheral to what lies at the heart of athletic competition; it's not something that can be summed up in words or pictures, but you know it when you see it, and I have seen it at the World Cup.
It is underneath the medieval suits of armor worn by cheering English fans. It sounds within the clanking of German beer steins after a goal and pulsates through the feet of African diski dancers. The biggest sporting tournament in the universe is bringing people together from across the globe and joining them in something that transcends athletes, teams and even the sport itself.
Perhaps this dynamic could best be illustrated by what I witnessed at the fan park in Cape Town when Brazil took on the Ivory Coast. A sea of fans flooded the viewing area around us, covered from head to toe in paraphernalia of the countries they backed. Supporters cheered adamantly for their respective sides throughout the game.
The physical match featured several fouls on both sides and some questionable officiating that prompted groans from those in attendance. The skirmishes that broke out between both teams prompted referees to hand out more cards than a Las Vegas poker dealer.
Many would expect such an emotionally charged setting to produce animosity amongst the rival fans. But what happened at the fan park in Cape Town that night was quite the opposite. Brazilian fans were joining in Ivory Coast chants, Ivory Coast supporters were clapping for Brazilian goals and, when the final whistle blew, all had experienced the power of the World Cup.
If after such an experience you still can't "feel it," as the slogan states, then you haven't reached out far enough.