Los Angeles and Region
100 Days Of Jerry Brown's Relative Silence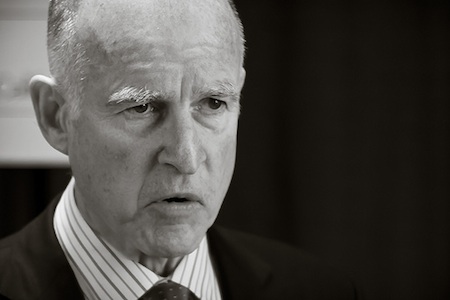 Jerry Brown's silence on education is worrisome. (Creative Commons)
8,640,000 seconds. 144,000 minutes. 2,400 hours. 100 days.
This is the time in seconds, minutes, hours and days since Neon Tommy began its
Jerry Brown Watch
: a chronicle of our efforts to engage California's Democratic gubernatorial candidate in a conversation about his education policies.
When tens of thousands of students, parents, teachers and workers across the country took to the streets on March 4 to protest budget cuts in California's designated "Student Day of Action," it raised the question of how Jerry, given his father's legacy, planned to fix our crumbling education system. His father,
Edmund "Pat" Brown
, who served as California governor from 1959-1967, is
credited with building
the state's higher education system.
Neon Tommy's
March 4 coverage
featured
video
,
slideshows
and
first-hand accounts
of live protests across California. But one thing was missing. What did the frontrunner candidates vying to inherit the state's deteriorating education system have to say about the whole thing?
But instead of press releases and "teachable moments" illuminating how they would handle the crisis in education, Steve Poizner, Meg Whitman and Brown fell silent.
And so began our series, which included daily calls and e-mails to the Brown campaign. We soon added Republican frontrunners Poizner and Whitman to our daily call list.
Our questions
focused on how the candidates would protect and improve the public education system, keep public universities affordable and avoid future layoffs and tuition hikes. Poizner responded on Day 41 and Whitman on Day 64.
For more than three months we wondered: Where on earth is Jerry Brown and why has he remained silent?
Following his win on Tuesday, Brown held a press conference in L.A. on Wednesday, where he started talking, albeit cryptically and not as a true leader overflowing with specific ideas that could electrify the electorate. On the subject of education, he failed to provide specifics yet again.
Brown said he would only raise taxes if the people voted for them, and when pressed by a Neon Tommy reporter on how he would fix the education system if he didn't raise taxes,
he responded
, "We would cut. We need here some reality. If we have $85, we can't spend $100. It's just that simple."
But it's not really that simple. What sort of education system does Jerry Brown believe California should have and what are his ideas for winning support, from voters and the state legislature, for it?
Walk into any overcrowded classroom, speak with any
laid off teacher
or help students pay for their education after a tuition hike--the effects of recent cuts in higher education are painfully apparent.
And an ear trained for nuance can find deeper meaning in Brown's "simple" answer.
"If your reporter asked a specific question about education and the answer is framed about tax policy then you have a clear sense of what the campaign would prefer to talk about," said Gordon Stables, an expert in political communication and a clinical assistant professor of communication at the Annenberg School for Communication and Journalism. "At this point it would seem like a new commitment for public funding for education isn't going to be one of their priorities given what [the Brown campaign is] saying."
Experts say Brown's silence leading up to the primary was strategic.
"Establishing a national identity or statewide brand would have been a bigger concern if [Gavin] Newsom had stayed in the race," Stables said. "Having people know who he is is the least of Jerry Brown's problems."
Dan Schnur, director of the Jesse M. Unruh Institute of Politics, who was recently appointed chairman of California's Fair Political Practices Commission by Gov. Schwarzenegger, said Brown's silence before the primary made sense.
"Because Brown didn't have a primary opponent, he had the luxury of leaving the stage to the Republican candidates," he said. "Because [the Republicans] spent so much time criticizing each other, he didn't get hurt by keeping his head down."
Another issue--one that's been paramount on the Republican side of this race--is money.
"His campaign advisers believe that he'll be at a spending disadvantage in a general election," Schnur said. "So he's saving his money until later in the campaign."
Though there seemed to be initial promise in our attempts with Brown's campaign (see
Day 5
when we spoke with campaign manager Sterling Clifford, who pledged a response to our written questions "in a couple of days,") we never spoke directly with Clifford again.
And it's not just Neon Tommy reporters Brown's campaign has been dodging.
On Tuesday night, George Skelton of the L.A. Times, who has
called for specifics
from Brown before,
wrote
, "It's definitely time -- and probably long past it -- for Brown to pitch voters about why they should return him to the governor's office after an absence of 28 years."
Now that the primaries are over, Brown has an obligation to address the issue of education in California. He needs to be courageous and get specific. We need a leader who doesn't wait to see what direction the public wants to pull him, we need someone who is bold enough to make a decision and stand by it.
There's no denying the failing state of California's public education system. And California needs a governor who will focus on this problem and dig us out of this mess.
Though Whitman has
a section of her website
devoted to fixing public education--"Meg will invest $1 billion of the savings from her welfare and other budgetary reforms into the UC and CSU systems,"--her plan lacks detail and fails to address how this will solve anything down the line.
Brown's website, meanwhile, has
no mention of public education
whatsoever--something Whitman called him out on when speaking to reporters after her victory rally in Anaheim.
"No one has been more specific about a plan for California than me,"
she said
. "Go to Jerry Brown's website, there's nothing there. He ought to put a specific plan down, and then we can have a good debate."
But could Brown's avoidance of the subject be strategic? It's possible, Stables said.
"They may really want a Jerry Brown 2.0 that is not the same that goes with the Brown family, which is counterintuitive," he said. "I think his message from the 70s or a message from the Brown family legacy might seem out of place. I don't know if that would resonate with voters."
Strategy-wise, the vision of old man Jerry Brown building on his father's legacy may not resonate with voters, but wouldn't fixing education?
Education is an issue that affects everyone. There should be no Democratic side and no Republican side--the issue should be a place where the politicking ends, and we all meet in the middle to guarantee the best future for generations to come.
If neither candidate is going to make this issue a priority, the future of education in California remains in serious jeopardy.
Time has a funny way of flying by. And yet when it's broken down into days, hours, minutes and seconds, it seems infinitely longer.
November will be here before we know it, and in between now and California's general election on Nov. 2, let's make Meg Whitman, Jerry Brown and any other politician across the nation answer these tough questions. We should be demanding that politicians talk to us.
This article is in no way an endorsement of Whitman or an endorsement of Brown; instead, it is a plea for political activism and a call for making California's politicians more accountable to the needs and wants of the voters.
So Jerry, what do you have to say for yourself?