Los Angeles and Region
Priests' Sexual Misconduct Still Dogs Cardinal Mahony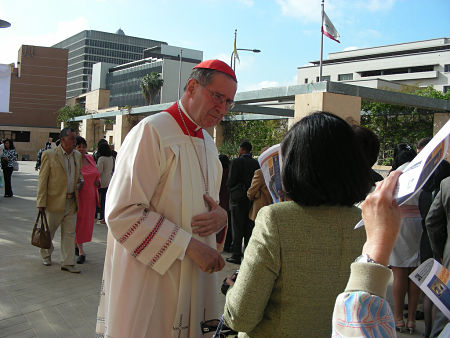 Cardinal Roger Mahony, leader of the nation's largest archdiocese, has come
under heavy scrutiny for reassigning priests alleged of sexually abusing minors.
(Creative Commons)
The Vatican announced this week that
Archbishop Jose Gomez of San Antonio
will take over early next year as head of the Los Angeles archdiocese, which is still a subject of criminal investigations.
Archdiocese priests accused of sexual abuse remain under investigation by L.A. County District Attorney Steve Cooley. The man Gomez will replace, Cardinal Roger Mahony, as well as other church leaders, remain subjects of a U.S. Attorney's Office investigation into a possible cover up of sexual abuse by priests. An attorney for the church said the federal probe may have moved beyond Mahony; federal officials would not comment.
Although investigators at both levels regularly receive documents from the church, it is unclear whether those pertain to sexual abuse by priests or cover up of the abuse by archdiocese leaders.
Mahony, the leader of the nation's largest archdiocese, has been under scrutiny since at least 2002 for his involvement in taking attention away from priests alleged of sexually abusing minors by reassigning them, failing to alert law authorities about illegal conduct and trying to withhold documents from investigators.
Sandi Gibbons, public information officer for the District Attorney's Office, said prosecutors do not have the evidence needed to file meaningful charges against anyone in the archdiocese.
"Right now, we don't have any case, but information might come up at sometime that changes that," she said.
Gibbons said the focus of local law enforcement authorities is individuals acts by archdiocese priests.
"If evidence is presented by investigators that shows a crime has occurred, then we will file a case," she said.
A Los Angeles Police Department spokeswoman confirmed that investigators are still gathering information as part of an ongoing investigation of the archdiocese until the relevant statutes of limitations run out.
The D.A.'s Office review of church documents brought to them by police and sherriffs investigators has been occurring since 2006 when the United States Supreme Court
refused to hear an appeal
from the Catholic Church to stop it from having to turn over private notes and letters.
Despite this, J. Michael Hennigan, an attorney for Mahony and the archdiocese, said he is "reasonably confident that there is no district attorney investigation."
Even though he has spoken to Cooley at social events, Hennigan said they haven't discussed a possible case against the cardinal for more than a year.
As Gomez's transitions into his new post beginning in May, he will have more than county prosecutors to worry about. Federal prosecutors also appear to remain interested in bringing fraud charges against Mahony and other high-ranking church officials.
Hennigan speculated that the U.S. Attorney's Office investigation is centered on illicit archdiocese conduct that dates back to before Mahony became archbishop in 1985. He said federal investigators have periodically asked the church for more documents.
Thom Mrozek, the public affairs officer for U.S. Attorney for the Central District of California, would neither confirm nor deny a federal law enforcement investigation into the church.
A lawyer who was among the group representing the 508 people who accused Los Angeles Archdiocese priests of sexual abuse and then settled for a total of $660 million speculated that federal investigators are still searching.
"We would have heard something if the federal investigation was over," Anthony De Marco said.
As for the D.A.'s Office, De Marco said it has been looking into church pedophilia for a long time.
"They've been frustrated because had they known what they know when obstruction was happening, charges could have been filed, but statutes of limitations have gotten in the way now," he said.
After a 2003 U.S. Supreme Court ruling barred prosecution of abuse that occurred too far back,
cases against two dozen priests
filed by the district attorney were thrown out.
Gibbons said that nearly 10 of those priests were later prosecuted because further investigation brought evidence to put cases back within legal time limits. She said law enforcement will investigate complaints until cases can be filed.
Kiesel, Boucher and Larson, the firm De Marco belongs to, has also been regularly requesting church documents.
"That's how we uncover a lot of this cover up or transfer of priests," he said. "It goes up to the highest levels."
De Marco
released March 31
a letter from the head of a Roman Catholic order charged with handling pedophile priests. In it, the Rev. Gerald M.C. Fitzgerald asks then-Pope Paul VI to remove such priests from the ministry instead of transferring them to a new church.
Minnesota-based attorney Michael Finnegan, who represented many Southern California victims, said criminal charges are important.
"The one thing that has happened with a lot of these cases is that there has been limited prosecution of abusers, but no prosecutions against the enablers that actually let these people get away with sexual abuse," he said.