Nation and World
Chatroulette Stokes Privacy Fears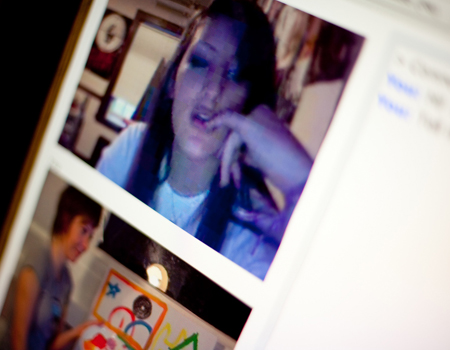 Chatroulette is not responsible for the content on its site. Users who record
and share chat sessions could be sued, however. (Creative Commons)
The video chatting service Chatroulette is attracting nearly four million visitors a month, but users might be risking more than they expect when they take a spin on the seemingly harmless site.
The online service allows users to video chat with random people from all over the world through their webcams. It creates an audio-visual-textual conversation between two people--or as many people who are in the room where the webcam is situated. If a user is not enjoying the conversation on the video feed, he or she can click "Next" and be randomly assigned to a new person.
But, as the service attracts more and more users, who for now appear to be mostly American males, certain trends are beginning to develop, some of which have the potential to lead to lawsuits against users.
First, the site has introduced worries about minors' exposure to perverts and penises. At the same time, legitimate companies such as Travelocity appear to be using the site to advertise.
An unaffiliated service, Chat Roulette Map, uses free software and scripts to determine a chat partner's location and plot it onto a Google Map. While Chatroulette's owner has endorsed the site, he has also promised to alleviate privacy concerns by developing a mechanism to let users block their location from being sniffed out.
The phenomenon of greatest concern is that users are using screen recorders to capture their interactions on the site. Many then publish the video of what is shown on their screen to sites such as YouTube and ChatrouletteVideos.com. A YouTube search for "chatroulette" returns more than 5,000 videos.
The most viral video has been of Merton the improv piano guy, but his video was temporarily taken down because a girl featured in the video didn't like that she was made famous on YouTube without her consent. An updated version of the video features her face pixelated, though it still incorporates her voice.
We asked three experts of Internet law to answer some legal questions concerning privacy issues raised by this developing trend.
The experts included Eric Goldman, associate professor of law at Santa Clara University and Director of the High Tech Law Institute; Jack Lerner, visiting clinical assistant professor of law at the USC Gould School of Law; and Seth Stern, an attorney with experience in First Amendment and defamation cases for Chicago-based law firm Funkhouser, Vegosen, Liebman & Dunn.

Is it legal for someone to record an Internet conversation without consent of both parties and publish it online for the public to view?
In California, consent of both parties is needed to record a private conversation. As long as the party doing the recording is in California, he or she is subject to the law.
All three experts agreed that a Chatroulette conversation would constitute a "confidential communication" that would be subject to the law.
Said Lerner, however, "If someone in Russia records a video of me, who knows what Russian law says? There's not much you can do."
Domestically, although the law varies from state to state, a user who video tapes or records a chat could be held liable under either the laws of his or her state or the state where the recorded party resides.
Stern mentioned that some courts have already held that those who use text chat rooms automatically consent to the recording of those conversations because both parties usually know that text-only chats can easily be printed out.
"A court might distinguish video chatting because users are less likely to realize that their chat sessions may be permanently recorded," Stern said.
Lerner said if a user knows Chatroulette is not archiving conversations and its Terms of Service prohibit recording, then one could be held liable under California law for recording a conversation. However, Chatroulette's Terms of Service include nothing about recording. Instead, it says that users must be 16 years old, users being offensive will be banned and Chatroulette is not responsible for what one may find on the site.
Chatroulette is correct on the last item, said Goldman. Section 230 of the Communications Decency Act says that websites such as Chatroulette and Facebook aren't liable for content others publish on their sites.
Stern discussed three nationally accepted doctrines related to bringing a claim.
False Light
Stern explained, if the recording party publishes a portion of a video chat "out of context, or juxtaposes the video with other text or images in a misleading and offensive manner," the recording party could be subject to a civil claim.
He said that while material at issue in a defamation claim must be untrue, a false light claim can still succeed if a statement is true, as long as the material is misleading.
Defamation
If the recording party publishes a recording that is edited to the extent that is no longer an accurate representation of what actually occurred, that party could be liable for defamation.
However, Stern said the recorded parties must prove that the publishing of the chat caused damages to them to bring a successful lawsuit.
Obscenity
Stern said if a recording contains unlawful content, then the party who publishes the video of the chat can be held criminally or civilly liable under obscenity laws, regardless of which party introduced the illegal content to the chat.
In California, three other doctrines may serve as grounds for a successful tort claim.
Right to Publicity
Recorded parties in a video that is published online could argue that the recording party violated their right to publicity by using their images or likeness without consent.
"This claim would be most viable in a case where the recording party uses the recorded party's image for commercial gain of some kind, but, depending on state law and the facts of a particular case, a claim could stand even where the recording party does not stand to profit," Stern said.
Private Disclosure of Public Facts
Goldman provided as an example of this doctrine someone who takes photos of an accident victim being rolled off an ambulance and being transported into a hospital emergency room.
He said publishing photos of something this private could be considered a tort if a reasonable person would consider it highly offensive.
Stern said success under this argument is questionable because people cannot try to prevent disclosure of already public information. He said a court may reason that a person broadcasting to strangers is already sharing information to the public.
Intrusion into Seclusion
Goldman's example for this doctrine is someone who uses a telephoto lens from afar to take pictures of a person sunbathing topless in the backyard at home.
"By extracting something from seclusion that is again considered highly offensive to a reasonable person and publishing it, one could become liable," Goldman said.
People are also taking screen shots -- pictures as opposed to a videos -- of them using the site. This includes the other party in the picture. Is this legal?
Stern said it would be harder to bring a case against someone who takes only a picture because no conversation is being recorded and it is more widely known that computers can take screen shots.
Do people have any expectation of privacy when they use a service like Chatroulette? People are usually using the site while sitting in their private residence (home, apartment, dorm, etc).
Goldman began by saying that "expectation of privacy" is usually used in reference to a situation between a private citizen and the government. In this situation, he said the term was "distracting."
When looking at online communication between two individuals, courts
would be more likely to accept arguments based on one's right to
privacy being violated than one's expectation of privacy being lost.
But Stern said there might be some hints for civil cases by looking at Fourth Amendment cases involving the government and the expectation of privacy.
He said the few courts that have ruled on chat room privacy have rejected arguments that users have an expectation of privacy because chat rooms are open to the public and people in chat rooms know that the people with whom they are speaking may be lying about their identity.
Finally, Stern said the user's location would probably be irrelevant.
"The pertinent question is generally not from where a communication is sent, but to where it is sent," he said.
Stern cited a case from earlier this year, Com v. Frattaroli, in which a Pennsylvania court rejected the argument of a defendant who claimed a right to privacy in text messages sent from his home.
In its decision, the court said, "This argument is nearly akin to asking that a ransom letter received by a victim...should be suppressed because the perpetrator wrote the letter in his house with the door closed."
New Legal Frontier
Goldman said regular Chatroulette users are starting to develop social norms that will eventually become standards about what is acceptable or not on the site.
While Stern suggested that users should never record their Chatroulette experiences, that doesn't seem to be the standard that is being set. Those that record others without permission could be held legally liable under various tort claims.
"Historically, we haven't been able to video chat live, so there is no well-developed legal doctrine," Goldman said. "There are no good examples yet either, so we have to draw up legal analogies and see what we can learn."
Lerner said it would probably very tough to bring a successful civil lawsuit against someone who records a conversation.
"It would be an uphill battle to win a claim since Chatroulette has become an anything goes environment," Lerner said.
"It's fair to say that whenever you go onto the Internet, what you do may be archived and may be preserved and may be shared with people you did not know would be seeing it," Lerner said.
Goldman also admonished users to be careful.
"Even in one-to-one chats, you should expect anything could end up online because you are online," he said. "The illusion of anonymity leads people to the wrong choices."
Stern said Chatroulette should serve as a general reminder to Internet and computer users that most actions that involve a computer can be recorded and recovered, whether by employers, opponents in a lawsuit or law enforcement agencies.
"You never know when something you post online might resurface," he said. "The damage done to a Chatroulette user's reputation when an embarrassing chat session is published online can be severe and irreversible, regardless of whether the user could successfully sue the person who published the chat session."