California
SPECIAL SERIES: When Stomachs Growl, Learning Falters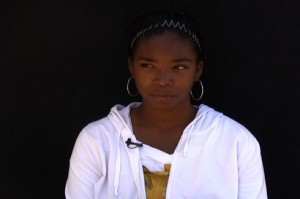 Lote'yan Williams, 14, has her first meal of the day
when she gets home from school. (Francesca Ayala and
Jacqueline Howard)
Loyte'yan Williams, 14, only eats once a day, at dinnertime.
"We hardly eat anything," she said. "When there's nothing [to eat at home], I get something to drink and that's it."
For Luis Ruiz, also 14, dinner is often a bowl of cereal, eaten after he gets home from school. "My mom doesn't always cook dinner," he said.
"My first meal of the day is usually at 3:30, when I get home from school," echoes Dianne Reyes, 14.
And for 14-year-old Omar Sanchez, "There's nothing to eat at home right now. Nothing."
These four ninth graders, among the 3,300 students at the James A. Foshay Learning Center, are part of a growing number of South Los Angeles schoolchildren considered "food insecure," meaning their families lack access to sufficient food.
Interviews with many of these middle school students paint a picture of sparsely stocked cupboards and poor nutritional habits, even as the students sometimes downplay their families' circumstances.
"I do get hungry," said 14-year-old David Melara. "At home I have a couple of fruits, not much vegetables and I have a couple of [cans] of beans... I think." He lowered his gaze to the floor and chuckled nervously. "My mom needs to go to the market still."
Anecdotal evidence from these children, coupled with the fact that 85 percent of Foshay students are eligible for free or reduced-price meals, suggest that hunger, food insecurity and poor nutrition are becoming more prevalent at the school.
School officials and experts attribute it to several factors, including low-income backgrounds, poor access to healthy foods and a lack of nutritional education. Such factors are causing students to consume too few calories or make poor food choices.
"Their performance is affected if they don't have breakfast, especially in the morning periods," said Alicia Esparza, who teaches nutrition to ninth graders at Foshay. "They are not able to concentrate."
Although there is no way to pinpoint exactly how much hunger and poor nutrition contribute to lagging school performance, Foshay principal Yvonne Edwards worries about the potential impact on her students' tests scores.
In 2009, test scores rose by 4 percent - not as much as Edwards had hoped - and a slim increase compared to the roughly 18 percent rise the school saw a year earlier.
A study conducted by the U.S. Department of Agriculture shows that "approximately one in six American children is at risk of hunger and potentially goes to bed hungry at some point in the year due to lack of household resources to secure an adequate food supply."
Research conducted by Tufts University in 1998 "indicates that even mild under-nutrition experienced by young children during critical periods of growth impacts the behavior of children, their school performance and their overall cognitive development."
Frank R. Sinatra, a USC professor of pediatrics, said, "Kids who skip meals don't have the metabolic fuel to concentrate. If you're not doing well in school because you're not eating well, you get behind."
Joseph Lynch, 14, feels the difference when he skips meals. "Sometimes I feel bad because I didn't eat anything for quite a while, and that's when I lose focus," he said.
"When I don't eat breakfast I feel like it's really hard to concentrate in class, I start getting headaches and I start feeling really lazy," said 14-year-old Milton Salinas.
Interviews with Foshay students suggest that many families are trying to find ways to cope with growing food insecurity.
"We always have a few extra noodle soups to put in the microwave just in case," said Juan Escalante, 14, who lives with his mother, his two brothers and his two cousins. His father is away, working in Virginia. "The soup is our backup until we go to the store."
"I kind of do this thing where I keep going to the refrigerator, hoping something will pop up," said 14-year-old Kristin Holloway.
Budget cuts compound matters
Because they come from low-income homes, 85 percent of Foshay students qualify to receive free or discounted meals from the school's cafeteria.
As poverty in South Los Angeles rises, so does the number of qualifying families, said Florence Simpson, a food service supervisor for the Los Angeles Unified School District.
"We're not only seeing students participating [in the free lunch program] more, they're throwing less away," said Simpson. "They're cleaning their plates."
Despite the rise in food-insecure children, Edwards said that the district budget cuts are starting to limit the amount of food assistance schools can deliver. This has made it difficult for school officials to meet the growing demand for public school students to eat for free or at a lower cost.
Budget reports indicate that LAUSD is facing a cumulative deficit of $894 million for the 2009-2010 school year. For the district to cope, cutbacks are being made everywhere.
While the district does set strict nutritional requirements, cafeteria menus have been downscaled, meaning fewer choices for students.
Three years ago, LAUSD cafeterias offered 15 different entrée choices on its menus. Now, students have three entrees to choose from, which alternate daily. Instead of being prepared on-site, heat-and-serve meals are also prepared in LAUSD's central kitchen, before being packaged and delivered to school cafeterias.
LAUSD has the nation's largest free breakfast program and the second largest free lunch program. These programs, aimed at low-income, food-insecure children, are designed to help prevent a lack of concentration among students who skip meals or don't get enough to eat at home.
But this goal is elusive, in part because of immense logistical problems: Nearly 3,000 qualifying students cannot possibly move through the cafeteria in the allotted half-hour lunch period.
The line of students waiting to buy food extends from inside the Foshay cafeteria building, past the cafeteria doors and all around the outside walls every day. Inside, students form lines in front of the four cash registers to pay for their meals. Students have half an hour to lunch before the seventh period bell rings.
Some students at Foshay prefer to avoid the long lunch lines by purchasing chips and pretzels from the student store. Other students skip lunch altogether.
"The availability of junk food and the lack of time kids have to eat their lunch... are factors that create the perfect storm," said Stephanie Hoffman, a health careers teacher at Foshay.
According to Hoffman, having limited access to healthy food has shaped her students' eating habits, which she fears will have long-term effects on their development and overall health.
"When they [have an unhealthy diet] and their physical activity is restricted, kids can't be performing at their peak level," Hoffman said.
Esparza said skipping meals plays a big role in having an unhealthy diet.
"Students skip meals and by the time they want to eat something, they are very hungry and end up eating the wrong things," she said.
The effect of poor nutrition -skipping a school lunch in favor of chips and a soda, for example -has long-term consequences for cognition and brain development, according to researchers.
Hunger on the brain
Fernando Gómez-Pinilla, a professor at UCLA's department of neurosurgery and physiological science, writes that food choices directly affect brain function. In his studies, Gómez-Pinilla has found that specific nutrients affect a person's cognition and emotion. For example, Omega-3 fatty acids, found in fish and walnuts, help brain development, while saturated fats, found in most junk food, contribute to brain deterioration.
"Dietary manipulations are a viable strategy for enhancing cognitive abilities and protecting the brain from damage, promoting repair and counteracting the effects of aging," wrote Gómez-Pinilla, in a recent study. "Brain networks that are associated with the control of feeding are intimately associated with those that are involved in processing emotions, reward and cognition."
In an interview, Gómez-Pinilla was asked to apply his findings to Foshay students. He said that students from food-insecure families risk compromising their cognitive function and resistance to disease.
"One short-term problem [with skipping meals] is that hunger may lead to stress or anxiety that may reduce concentration in lectures," said Gómez-Pinilla of the Foshay students' eating habits. He said that erratic eating schedules are worsened when children forego a healthy meal in favor of junk and fast food.
"This is a recipe for an obese adolescent and type 2 diabetes," said Gómez-Pinilla. "This may have long-term negative consequences for brain function as now we know that junk food is bad for the brain."
School, district attempt to tackle malnutrition
LAUSD officials, meanwhile, are "fighting rising food and structural costs," said Simpson. "Each year, we fight a battle with how we're going to balance the budget... but at some point, it might actually affect what's on the student's plate."

Foshay has applied with the federal government to be considered as a Provision 2 school under the National School Lunch Act. If approved, federal funding would be provided so that all the students at Foshay could eat meals free of charge.
Until that application is processed and approved, one challenge Simpson's department faces is eliminating the logistical obstacles to feeding as many public school students as possible.
"There is a direct correlation between students eating and being well-nourished and performing in the classroom," said Simpson. "When students can't get through the line or can't eat... then that's hurting us."