Los Angeles and Region
Immigrant Groups Seek To Quell Patriot Act Fears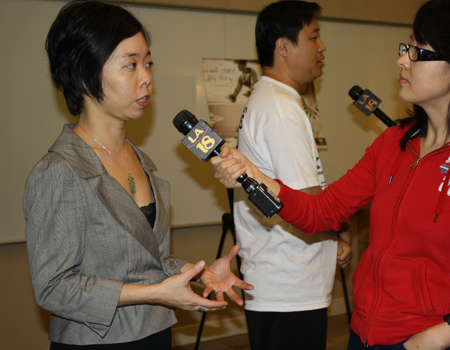 Karin Wang, of the Asian Pacific American Legal Center, shares with
reporters why the Patriot Act does not affect the census.
(Photo by Madeleine Scinto)
In light of increasing concern among immigrant groups that the Patriot Act overrides the confidentiality of the census, organizations supporting Asian Americans, Pacific Islanders and Latinos came together at the California Endowment in downtown Los Angeles on Tuesday to calm their fears.
"The laws that protect confidentiality of the census aren't affected by the Patriot Act and never were," said Christian Marquez, spokesperson for the
Asian Pacific American Legal Center
(APALC), a civil rights advocacy group.
The Department of Justice released a memo the first week of March, upon the request of minority lawmakers, explaining that federal laws supersede the Patriot Act and bar local, state or federal agencies from obtaining information gathered through the census.
"We wanted support from the Department of Justice because they have an official word on these matters," said Steward Kwoh, president and executive director of APALC. "And the message helped add credibility to the message civic leaders like ourselves have been spreading...that it's safe to participate in the census."
Minority leaders also wanted the DOJ message out after the
National Coalition of Latino Clergy & Christian Leaders
(CONLAMIC), based out of New Jersey, told groups that the federal government could use census data to track down undocumented immigrants through the Patriot Act.
"Despite 9/11 and the nation's response to that emergency, the Patriot Act being a part of that response, the DOJ makes it clear disclosing information on individuals for anything other than providing a count is not allowed," said Thomas Saenz, president of the
Mexican American Legal Defense and Educational Fund
(MALDEF), a Latino civil rights group.
CONLAMIC did not return phone calls in time for the publication of this article, but census advocates say groups like CONLAMIC want to scare people into not participating by convincing them the federal government will find ways to use census information, through the Patriot Act, to deport them.
"It's a fear, especially being used in the Latino boycott," said Marquez.
CONLAMIC, headed by Rev. Miguel Rivera, has been campaigning for over a year now to encourage Latinos to boycott the census. The organization hopes its boycott will push Democrats to follow through with their promised immigration reforms.
"So it's political leverage if you will, to cause debate, to cause tension," said Nativo Lopez, a longtime Southern California Latino activist and boycott supporter. "It's to bring to light that President Obama promised immigration reform in his first year in office and has not delivered, whereas the Latino community has repeatedly delivered to the Democratic party."
Boycott proponents want Democrats to legalize the estimated 12 to 15 million undocumented individuals in the nation.
"But telling people not to participate in the census is like shooting yourself in the foot," said Jose Cruz, senior director of civic engagement at the
National Association of Latino Elected Officials
(NALEO), a non-profit Latino leadership organization. "The only time you have a political voice is by participating. These types of moves, like the boycott, are irresponsible and stupid. They just don't make sense."
If the census finds California's population grew since 2000, then it will gain congressional seats. Cruz argues these seats will likely be gained in Latino areas, which will create room for Latino representatives who will be favorable to immigration reform.
Having the proper count also locks in more federal funding for public services.
"If we don't have an accurate count there will be overcrowding of hospitals, buses, schools, health care services and the like," said Marquez.
Lucky for census proponents, the boycott movement does not seem to be as powerful as some feared a year ago. CONLAMIC says it represents 20,000 Latino churches in 34 states but when Neon Tommy tried contacting the 30 affiliates listed on its website over the span of several weeks, they could not be found or did not return phone calls. And according to NALEO, some of them switched to the pro-census side.
"The boycott messages aren't getting much traction these days, and at this point we try not to mention CONLAMIC if possible," said Sam Robles, the Los Angeles regional coordinator for NALEO.
But the census still faces many other challenges, including trying to count the Asian population. Ten percent of the Asian and Pacific Islander community remains undocumented and, like the Latinos, fear possible deportation. Koreans make up the bulk of the undocumented group, with 1 out of 5 not having proper paperwork, according to APALC.
The Census Bureau also finds it difficult to count Cambodians, Filipinos and other South East Asians who came to the United States as refugees.
"The Census Bureau did a study and found Cambodians, for example, take a long time for their feelings of government distrust to dissipate," said Karin Wang, vice president of programs at the APALC.
Besides immigrant groups fearing the census, they also must contend with "linguistic isolation." Although the census form comes in five different languages besides English, the person filling it out must specifically request the other language.
"There was one line at the bottom of the advanced letter that said, 'If you need help go here,' and it listed a Web site," said Marquez. "But it doesn't specifically say how to get the form in another language or that kind of thing. And it just adds another step to the process."
Another problem is that many immigrants live in group housing and not all the groups get counted.
Despite some of these challenges, 50 percent of the nation has returned its census mailers so far, which is about what the bureau expected by this point, said James T. Christy, the Los Angeles regional census director.
California comes in at 44 percent, which is low compared to other states, and Los Angeles only comes in at 39 percent, with areas like Terrace and McCarthur Park yielding a mere 22 percent response rate.
Over the years response rates have declined, said Christy. In 1980 the response rate was 80 percent and in 2000, even after a lot of campaigning and advertising, the response rate dropped to 70 percent.
When asked why fewer people have been mailing in their responses over the years, Christy said he did not know: "It's just a hard to count state."
He also mentioned California gave the Census Bureau $25 million in 2000 to help get out the message but this year gave only $3 million, which he said could explain the lower response rate.
Those homes that fail to mail in their responses this year should expect the Census Bureau to come knocking on their door, as it has done in previous decades.
"One could have up to six visits from census officials at their home starting May 1st," said Christy.
The Census Bureau and other census advocacy groups will be looking specifically at how many males are counted, which is one of the indicators of how successful the tally was.
But it will still be hard to tell.
"The census isn't like other things, it's hard to gauge when you're doing well and when you're not," said Cruz.
The bureau and its supporters will have to wait until July 1, when the counting stops, to see how it faired in tallying immigrant groups and the nation as a whole.